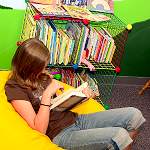 How do you talk with kids about divorce, depression or death? Many parents have no idea how to even begin such a conversation about serious topics with their children.
Honest and insightful communication is as difficult for kids as it is for most of us. Parents' questions are often viewed as interrogation, met by silence, "I dunno" or a single word response. Speaking with younger children presents even more challenges. Younger kids have intense feelings and complex thoughts, but just don't have the vocabulary to translate ideas into words. How can we gain entry into our children's inner lives and encourage the expression of what they really think and feel?
Children's books provide a tremendous opportunity to promote such communication.
These are not the same books that many of us read as youngsters. Contemporary children's literature better reflects the reality and range of issues confronted by many kids. There are books that deal with intense topics of abuse, divorce and death. However, more routine issues such as friendship, forgiveness, fears, nail biting, bedwetting, ADHD, anger and depression are also common themes in many books.
I've used stories in working with many kids in therapy. Books give kids a sense that they are not alone. Despite reassurances by me and others, many kids still feel a tremendous sense of isolation, thinking that their experiences, problems and issues are unique. Books allow kids to read about how others have successfully dealt with things they are confronting. Stories give kids hope that they can resolve their problems as well.
Books are a great starting point for discussion.
Kids have an easier time talking about someone else's experience. They can then relate if the ways a character in a book dealt with an issue is similar or different than their experiences.
Here's how to use books to help talk with your children.
Locate an appropriate book. Your local librarian can be of great help, but the Internet has invaluable resources.  Magination Press has books on variety of topics for children and adolescents. While many of these books are intended for use in therapy, they can be very helpful for parents wanting to promote communication with their children. If you search the Internet under "bibliotherapy," you'll uncover lists of books on a variety of topics.
Don't wait for the perfect book. I've never used a book that entirely reflected my view of some problem. Each story has its own limitations. Some may offer perspectives that are different than your own. Those differences allow opportunities for discussion with your child. Your youngster may read a book about bedwetting and conclude that he never experienced the feelings of the main character. You can then ask questions and gain some understanding as to how your child's reactions differed from the main character.
Don't pressure your child to talk. Sometimes kids will read a book and not want to say much to you. That's fine. You've opened that door for discussion that your child has chosen not to enter at this time. Younger kids may need a book read to them several times before they feel comfortable talking about it.
Listen, don't lecture. Don't talk so much. Ask questions. Refrain from giving your own point of view. Your goal is to understand your child's world, not to correct their misperceptions or convince them of the righteousness of your position.
Don't select books that only deal with your child's issues. What's great about many of these books is that they help kids understand what other youngsters may be experiencing. These stories help teach empathy to kids, an understanding and acceptance of others with special problems. Your children may not have ADHD, cancer or phobias, but they undoubtedly will encounter children with such problems.
Books help you open the door to your child's inner world. It's a door worth opening.
[Reprinted by permission from the Jul. 27 edition of the Dayton Daily News, "Books can help tackle difficult issues with kids", Family Wise, Gregory Ramey, PH.D.]
© 2008 – 2018, Ohio Family Law Blog. All rights reserved. This feed is for personal, non-commercial use only. The use of this feed on other websites breaches copyright. If this content is not in your news reader, it makes the page you are viewing an infringement of the copyright.

About The Author: Guest Contributor Gregory Ramey, PhD, Child Psychologist and Dayton Daily News Columnist
Gregory Ramey, PhD, is a nationally recognized child psychologist and columnist who has worked at Dayton Children's Hospital since 1979. In addition to his weekly column in the Dayton Daily News about effective parenting, Ramey has conducted more than 200 workshops and has recently been quoted in articles in Redbook, Parenting, Ladies Home Journal as well as columns distributed by the New York Times Wire Service.
Helpful Books For Children Going Through Divorce And Loss