In recognition of October having been declared Domestic Violence Awareness Month, this post explores the mission goals and philosophy of the Artemis Center in Dayton, Ohio.

On Tuesday, October 14, 2008, I had the opportunity to meet with and to interview Patti Schwarztrauber, the Executive Director of Artemis Center since April, 2002. The Executive Director, having a Master's Degree in Social Work (MSW) and being a Licensed Social Worker (LSW), began her employment with Artemis Center in 1997. She worked at various positions, including being a Children's Therapist and serving as a liaison between Artemis Center and Montgomery County Children's Services before being named Executive Director six (6) years ago.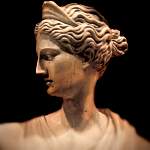 I learned that in Greek mythology, Artemis was traditionally the friend and protector of women in childbirth and young children. Artemis, a female, was associated with a mythological forest. Accordingly, a saying developed over time- "no harm shall come to those who walk in the woods of Artemis."
The Artemis Center for Alternatives to Domestic Violence was established as Artemis House in June, 1985. The founders were six (6) women who often worked without pay or benefits to provide services to family members affected by domestic violence. Today, twenty three (23) years after being founded, Artemis Center has a paid staff approximating twenty five (25) and an annual budget of 1.6 million dollars. In fact, Ms. Schwarztrauber advised me that one of her most challenging responsibilities is to plan the budget and find funding for the yearly budget. The funding for this community agency comes from grants (government sponsored and private foundations), United Way, the Montgomery County Human Services Levy, and contributions. With the tightening of our economy and with the present banking/mortgage crisis, the Executive Director believes there will be more agencies vying or competing for fewer monetary resources.
An Artemis Center brochure reflects the following facts:
-One in four women experiences domestic violence in her lifetime.
-Domestic violence is the single largest cause of injury to women in the United States.
-Domestic violence happens to persons regardless of income, profession, race, class, faith, tradition, age, or sexual orientation.
-80 to 90% of children living in violent homes are aware of the battering and abuse.
The mission of the Center is "leading the Community in its commitment to end domestic violence." It is interesting to note that their definition of "domestic violence" includes conduct which is broader than the definition in the Ohio Code Section 3113.33(A). Under Ohio law, domestic violence is defined as "attempting to cause or causing bodily injury to a family or household member, or placing a family or household member by threat of force in fear of imminent physical harm." The Artemis Center has defined "domestic violence" to include "an intentional pattern of abusive behaviors used by one person to manipulate, control and intimidate a partner, other family member, or roommate." Therefore, a party under the Artemis definition may be a victim of domestic violence if his/her partner:
-Puts her down, calls her names, constantly belittles her.
-Prevents her from seeing her family and friends (isolates her from others).
-Threatens to harm her or other family members.
-Prevents her from having money and/or other financial resources.
-Hits, slaps, punches, pushes, or exhibits other battering behaviors.
-Frightens her by smashing or breaking objects or throwing things at her.
-Interferes with her use of the telephone or the family car (isolating behaviors).
Ms. Schwarztrauber confirmed that there are instances wherein the male in the family is the abused partner, but those instances are much, much less prevalent than the female being the abused partner. And, she confirmed there are instances of domestic violence between gay/lesbian partners.
The Artemis Center offers many services to victims of Domestic Violence and their children, and the services provided are "free" of charge to each client family. The services available include:
Twenty-four (24) Hour Domestic Violence Hotline (#937-222-SAFE or #937-222-7233). The telephone is answered by Artemis Center staff from 8:00 a.m. until 8:00 p.m. on weekdays (Monday through Friday). The telephone is answered by YWCA staff from 8:00 p.m. until 8:00 a.m. on weekdays (Monday through Friday) and on weekends. The "hotline" is the point of entry into the Artemis Center and the persons answering the "hotline" offer support to callers with the emphasis being "You are not alone!" and "You are not crazy!"
Children's therapy program provides counseling to children who have witnessed domestic violence. The therapists include counselors and licensed social workers. Therapy sessions are available during morning hours, afternoon hours, and evening hours.
Assistance with the legal process is provided by Artemis Center. This may be in the form of an Advocate attending court hearings with the victims of Domestic Violence. The Advocates may be paid staff members or volunteers. Often, Advocates are recovering victims of domestic violence or survivors of domestic violence who want to return assistance to others who are experiencing difficulties within their homes. For the protection of the Advocates, they only use their first names for identification purposes.
Individual and group support sessions are provided by the staff of Artemis Center to assist victims with issues of finances, employment, visitation schedules, and other child-related and financial-related issues.
Workplace Safe from Domestic Violence Program is a program intended to educate employers about the issues involved with domestic violence.
Since the Artemis Center has been in existence since 1985 and since the Executive Director has been involved with the Center since 1997, I asked her if she has observed a decrease or decline in domestic violence. She related to me that she had not seen a decline in the incidence of domestic violence; and instead, she has observed increased brutality involving more family members, including children. And, she is concerned about the apparent increase in murder/suicides in domestic relations matters.
I found Patti Schwarztrauber to be completely devoted and committed to the goals of the Artemis Center. She is an avid advocate for victims of Domestic Violence in the greater Miami Valley area. She also advised me that other communities similar in size to Dayton have no comparable agency similar to the Artemis Center. We are indeed fortunate to have the Artemis Center available for our citizens affected by domestic violence in their homes. Click here to visit the Artemis Center website.
© 2008 – 2018, Ohio Family Law Blog. All rights reserved. This feed is for personal, non-commercial use only. The use of this feed on other websites breaches copyright. If this content is not in your news reader, it makes the page you are viewing an infringement of the copyright.

About The Author: Anne Shale
Anne Shale is of counsel to Dayton, Ohio, law firm, Holzfaster, Cecil, McKnight & Mues. She is a former registered nurse and concentrates her practice in Family Law and Divorce cases.
Artemis Center: Dayton's Domestic Violence Resource Agency