In the first of a two part series, Attorney Robert Mues examines Virtual Visitation and the different options a divorced parent can use to communicate with their children. Part 1 – Utilizing Technology to Supplement Parenting Time.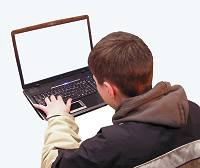 Not too long ago, divorced parents had limited communication options to stay in touch with their children.  The old rushed and often dry "phone call approach" was better than nothing but had drawbacks.  There were long distance phone charges and issues with time zones.  New communication options have improved considerably! It is much easier for you to keep in touch with your children after a divorce.  Most of these approaches require both parents to have a computer with broadband connections.  Here are some options to supplement traditional face to face parenting time:
Cell Phones: Many companies are selling cell phones designed specifically for kids which feature built in parental controls to restrict incoming and outgoing calls or text messages.  Check out firefly mobile, LG Migo from Verizon Wireless and Kajeet (), which also includes a GPS phone locator service allowing a parent to find out where the phone is at various times of the day.
Email: Email features have expanded so it's easy to share photos and videos by incorporating a digital camera.  A scanner can be a great addition for a parent or older child to transmit copies of homework assignments, report cards and other written items.  Perhaps scan a copy of a child's recent art project.
Webcam: Webcams have dropped dramatically in price.  Skype, Google, Yahoo and AOL all have made it easy to talk with your child and see him or her on the computer screen at the same time.  Creative parents have used a webcam to record themselves while reading a book or singing happy birthday.
Instant Messaging (IM): Many kids are on the computer a lot. Instant messaging is similar to email but it is in real time.  Google, MSN, AOL, Yahoo and others have IM services.  Instant messaging makes it easy to communicate with a child by typing a message and immediately getting a response.  Be ready to learn some "shorthand" slang and acronyms that kids use to communicate these days such as LOL (laugh out loud), BTW (by the way), and TTYL (talk to you later).
etendi BRIDGE: Last month etendi.com launched BRIDGE, an easy to use, interactive, safe and secure web-based meeting place.  It has been specifically developed for non-custodial parents or co-parenting situations, grandparents, military families, or the heavy business traveler.  BRIDGE allows family members to stay connected by providing a single place for them to be together online.  Features include live video phone calling, shared spaces for photos, videos and documents, personal notes, an interactive white board, and a shared calendar.  Parents, kids and other family members can be online at the same time and have a video phone call, play games or work on homework together.
BRIDGE has combined the web-based tools that parents and kids enjoy into a simple subscription based system which eliminates external, undesirable content or SPAM reaching the kids.
These "virtual visitation" tools are not suggested as a replacement to in-person contact but rather, as a supplement. The more options a parent can implement to stay in touch with a child, the stronger the bond between the two should grow. Long-distance parents should think "outside the box" and be creative in integrating virtual visitation tools to stay in close communication with their children. An excellent online resource to learn more about this topic is The Virtual Visitation Portal, whose mission includes helping educate and providing free information on how virtual visitation can help both parents who are separated or divorced stay in touch with their children.
Next week, I will address some of the legal aspects associated with virtual visitation issues.
© 2009 – 2018, Ohio Family Law Blog. All rights reserved. This feed is for personal, non-commercial use only. The use of this feed on other websites breaches copyright. If this content is not in your news reader, it makes the page you are viewing an infringement of the copyright.

About The Author: Robert L. Mues
Robert Mues is the managing partner of Dayton, Ohio, law firm, Holzfaster, Cecil, McKnight & Mues, and has received the highest rating from the Martindale-Hubbell Peer Review for Ethical Standards and Legal Ability. Mr. Mues is also a founding member of the "International Academy of Attorneys for Divorce over 50" blog.
Virtual Visitation: Part 1 – Utilizing Technology to Supplement Parenting Time