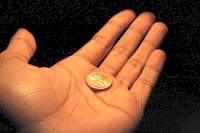 Growing up in a small and rural community in Southwestern Pennsylvania, I was truly fortunate to be reared by a hard-working Father and a loving "stay-at-home" Mother.  She taught the four of us so many things by example and by so many proverbs.  One of her favorites was "You get what you pay for!"  To her, that meant that you purchased fewer items of high quality personal goods or articles of clothing rather than more items of lesser quality or durability.
Today, as a practicing family law attorney in Dayton, Ohio, I have encountered and worked with more than a few clients who, while trying to save money on legal fees, truly did themselves a disservice with the end results obtained.  In this article, I shall set forth several actual scenarios and discuss the losses the clients sustained in trying to save money!
Scenario #1:  Wife set common sense aside and chose to believe Husband who promised he "would take care of her"!
With Wife's faith in Husband's honesty and integrity, she did not retain counsel, did not file an Answer, and did not attend the final divorce hearing in Greene County, Ohio.  On the day of the final hearing, Husband appeared with his attorney, his corroborative witness, and a Final Decree that was filled with phrases such as "by agreement of the parties" and "The parties agree" to this and that provision or issue.  As Wife had not retained counsel nor filed an Answer, the Court accepted the Final Decree in the "non-contested" divorce proceeding and it was filed with the Court.
Wife later learned that Husband had indeed "taken care of her"!  He retained the marital residence with all of its equity and he retained his retirement accounts, free from any claim of Wife.  To his credit, Husband did provide that Wife would retain her automobile and the household goods and furniture in her possession.
When Wife later retained my services, we filed a Rule 60-B Motion and asked the Court to set aside the Judgment that had been prepared and filed by Husband and his counsel. As you can imagine, it is harder to repair damage that has been incurred than to prevent the damage from occurring in the first place; and it is costly to undo damage in terms of time and money.
Eventually, Wife received a lump sum settlement and paid my legal fees for services rendered.  If she had retained legal counsel in the first place, I firmly believe Wife would have had a better outcome at a lower emotional and financial cost to her.
Scenario #2:   Husband set aside common sense in trying to save monies on attorney's fees and did not retain counsel.
In this scenario, Wife made no promises to "take care of Husband".  Husband had earned income exceeding that of Wife but neither party would be considered to be "wealthy" or "financially advantaged".  Wife's counsel prepared the Final Decree and had Husband be solely responsible for most liabilities.  It is instructional to note the Final Decree did not specify whether the liabilities were in the name of Wife, in the name of Husband, or in joint names.  A liability in the amount of $7,000 was assigned to Husband to pay. He was to be solely responsible for payment of that indebtedness and he was to save and indemnify Wife harmless therefrom.  Husband later learned that the $7,000.00 liability was in Wife's individual name.
Then, the economy became "tighter and tighter".  Husband remarried and had another child.  The unpaid liability in Wife's name grew in amount, due to interest and penalties and lack of payments from Husband.  The creditor of the unpaid liability began seeking payment from Wife and obtained a Judgment against her with garnishment from her minimal earnings.
Wife then filed a Motion to Show Cause against Husband, and he sought counsel from an attorney specializing in personal bankruptcy.  It was at this time that Husband was advised the indebtedness was in Wife's name alone and could not be discharged by him.
This post-Decree matter remains pending before the Domestic Relations Court of Montgomery County, Ohio.  It is another example of the danger in trying to save legal fees and then being "caught between a rock and a hard spot" with the outcome.
Scenario #3:   Husband, in an effort to save money and to expedite the divorce proceeding in State A did not tell his Divorce Attorney (State A) about his pending Bankruptcy Proceeding and did not tell his Bankruptcy Attorney (State B) about his pending Divorce Proceeding.  This scenario is illustrative of the proverb "You get what you pay for!" and is also illustrative of the proverb that "Haste makes waste!"
With the foregoing fact pattern, Husband obtained a Final Judgment and Decree of Divorce which may be "voidable" as neither counsel obtained an Entry for Relief from Automatic Stay as is required by the Bankruptcy Court(s).  Husband remains in State A while Wife and the parties' child or children relocated from State A to the State of Ohio.
To save time, Husband "agreed" that both children born during the parties' marriage were "his" biological children.  He now submits the second child could not possibly be his child as the child was conceived while he was serving his Country in Iraq.  Immediate question becomes apparent– then why did he agree that the second child was born as issue of the marriage?  His response was that "things were so bad" that he would have agreed to anything to terminate the marriage.
We are presently trying to register the Foreign Decree (State A) in the Domestic Relations Court of Montgomery County, Ohio, so that our Ohio Court shall have jurisdiction in this State.  If successful with that action, we shall then challenge the paternity of the second child born "as issue of the marriage" with the knowledge and understanding that our Courts are not in favor of making a child born during the marriage of the parties an "illegitimate" child.
With the foregoing scenarios, there are lessons to be learned by parties in a divorce/dissolution action and for the attorneys involved with same.  They include the following:
For parties to a divorce/dissolution action:
A divorce action or a dissolution action are adversarial proceedings. One attorney can NOT represent both of you. If monies are "tight", at least retain an independent attorney to review the pleadings that have been prepared by the attorney for your spouse. You can then be advised as to any issues that could be problematic in nature and be guided to make an informed decision as to whether or not you should retain independent counsel.
Be honest and forthright with your counsel.  Tell him or her everything that he or she must know to fully represent you.  Your attorney must be completely informed as to marital assets, marital liabilities, and of any bankruptcy proceedings.
For attorneys in divorce/dissolution matters:
Ask more and more questions of your potential clients to try to get the best information    as to the issues in the instant matter.
Are there issues as to the paternity of any of the children?
Are there bankruptcy proceedings pending?  If so, you must obtain Relief from Automatic Stay in the bankruptcy proceeding for the Final Decree of Divorce to be valid and not "voidable".
Identify all marital assets and liabilities and verify which party "owns" each asset and liability.
The parties in each of the foregoing scenarios incurred legal expenses they did not intend to incur because they were trying to save money at the initial stages of the proceedings.  Again, as I wrote in the early paragraphs of this article – "You get what you pay for!"
© 2009 – 2018, Ohio Family Law Blog. All rights reserved. This feed is for personal, non-commercial use only. The use of this feed on other websites breaches copyright. If this content is not in your news reader, it makes the page you are viewing an infringement of the copyright.

About The Author: Anne Shale
Anne Shale is of counsel to Dayton, Ohio, law firm, Holzfaster, Cecil, McKnight & Mues. She is a former registered nurse and concentrates her practice in Family Law and Divorce cases.
You Get What You Pay For!