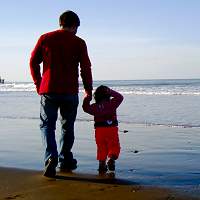 If you think being a parent is challenging, 37 percent of American families will tell you there is one job that is even tougher—being a step parent!
Step parenting is often filled with a great deal of discontent and disappointment.  A step mom remarked that she has "most of the responsibility but ultimately no real authority" in raising her step kids.  She felt like it was all of the work of a "real parent" but without any of the love or commitment from her step kids. "Ultimately, I feel like a glorified babysitter but without the pay from an employer or the gratitude from my stepchildren.  When things get tough, I hear "you're not my real mom!"
Here are some suggestions for making step parenting a rewarding and meaningful experience for you and your kids.
Clarify your role before you get married. Make certain that you and your potential spouse are in agreement about your responsibilities and rights in raising your step children.If the step children will be living primarily with you and your spouse, you need to have the authority (with your spouse) to set rules and discipline the children.  This is the most frequent source of conflict in families.  You can minimize this tension if your role is clearly communicated to the children by you and your spouse.When there are disagreements about rules or discipline, the kids will naturally look to their biological parent. If you are routinely undermined by your spouse, get ready for years of anguish and frustration. Remember that children watch your behavior more than they listen to your words.
Always respect the absent biological parent. Kids will come to their own judgment about the adults in their lives, including the parent they visit only occasionally.  Never criticize or whine about what goes on when your step children visit their biological parent. You can respectfully disagree by explaining to your step children why the rules in your household are different.
Be flexible about your relationship with your step children. This can be a time of turmoil for the children. They are trying to figure out how they can love more than two parents. They may be experiencing intense feelings of confusion, anger or anxiety.  Be respectful of their feelings and give them some time to work out their relationship with you.
Don't blame everything on the fact that you are a step parent. Raising children is tough at times, whether they are your biological or step kids. Be careful about misattributing all problems to the fact that kids are growing up in a blended family. Focus on the things you can influence rather than complaining about the weekend visits with the other biological parent.
Nurture the relationship with your spouse. The way to be a good step parent is to first be good spouse. Recognize that about 60% of second marriages and 73% of third marriages end in divorce. Your step kids will feel better about you and themselves if they see you and your spouse happy, engaged, and loving with each other.
[Reprinted by permission from the March 22, 2009 edition of the Dayton Daily News, "Survival Guide for Step Parents: Five Secrets to Enjoying Your Stepchildren", Family Wise, Gregory Ramey, PhD]
© 2009 – 2018, Ohio Family Law Blog. All rights reserved. This feed is for personal, non-commercial use only. The use of this feed on other websites breaches copyright. If this content is not in your news reader, it makes the page you are viewing an infringement of the copyright.

About The Author: Guest Contributor Gregory Ramey, PhD, Child Psychologist and Dayton Daily News Columnist
Gregory Ramey, PhD, is a nationally recognized child psychologist and columnist who has worked at Dayton Children's Hospital since 1979. In addition to his weekly column in the Dayton Daily News about effective parenting, Ramey has conducted more than 200 workshops and has recently been quoted in articles in Redbook, Parenting, Ladies Home Journal as well as columns distributed by the New York Times Wire Service.
Survival Guide for Step Parents: Five Secrets to Enjoying Your Stepchildren