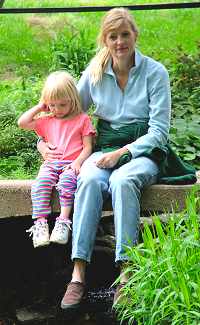 Our responsibility as parents is to nurture and protect our children.  We do everything possible to ensure their physical safety and to care for their emotional and psychological needs as well. It seems a bit odd to think that many children and teens feel like it is their responsibility to protect us.
This occurs most frequently in divorce situations.  Kids are acutely aware of their parents' emotional wellbeing and are very reluctant to say or do anything to upset their families.  One 10-year-old told me that she had lots of questions about the divorce, but knew her mom was already upset.
"I hear her crying on the phone after I go to bed. I don't want to make it any worse for her."  Rather than talk with her mom, she speaks with friends at school or to her Boston terrier.  Neither can really meet her needs.
This oversensitivity to the feelings of parents also plays itself out in cases of sexual abuse. One of the most perplexing aspects of such abuse is the reluctance of many children to say something to their parents.  There are many complicated reasons why children don't tell, but a major factor is their desire not to hurt their parents. For a 9 year old boy who was molested by an older cousin, it made sense not to say anything.
"My cousin is part of our family.  My parents would get really sad and mad if they found out about this."
Financial uncertainties are another challenge for our kids.  They see things in the media, overhear bits of their parents' conversations, but say nothing for fear of upsetting their parents. They feel it's better to worry in silence rather than speak up and hurt their parents.
I suppose we should laud our kids' desire to look after us. However, we need to know their concerns about divorce, death, money and most certainly abuse.
How can we tell our kids that we don't want them to protect us from such topics?
Make meaningful conversations an integral part of your family life. Turn off the TV, computers and cell phones and talk with your kids on a routine basis. I'm a big advocate of using meal times for family discussions.  This needs to be habit that is nurtured, with an expectation that everyone contributes at the dinner table.  Listen carefully to what your kids are saying and ask questions to help them to clarify their thoughts and feelings.
Don't overreact. If you want your children to talk about important things, then you need to respond in ways that encourage such discussions.  Avoid lecturing and be careful of exaggerated responses. Seek to understand your children's perceptions rather than judge, lecture or offer your point of view.
While it's nice that our kids want to protect us, we need to keep emphasizing that what we really want is for them to permit us to understand their private worlds.
[Reprinted by permission from the July 12, 2009 edition of the Dayton Daily News, "Kids Who Protect Parents", Family Wise, Gregory Ramey, PhD]
© 2009 – 2018, Ohio Family Law Blog. All rights reserved. This feed is for personal, non-commercial use only. The use of this feed on other websites breaches copyright. If this content is not in your news reader, it makes the page you are viewing an infringement of the copyright.

About The Author: Guest Contributor Gregory Ramey, PhD, Child Psychologist and Dayton Daily News Columnist
Gregory Ramey, PhD, is a nationally recognized child psychologist and columnist who has worked at Dayton Children's Hospital since 1979. In addition to his weekly column in the Dayton Daily News about effective parenting, Ramey has conducted more than 200 workshops and has recently been quoted in articles in Redbook, Parenting, Ladies Home Journal as well as columns distributed by the New York Times Wire Service.