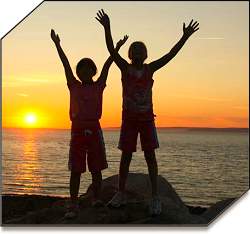 According to figures from the U.S. Census Bureau, there are 2.1 million adopted children and 4.4 million stepchildren of householders as estimated from the Census 2000 sample. Together, these children represented approximately 8 percent of the 84 million sons and daughters of householders in 2000.
It is a fact, based upon several recent surveys, that children in adoptive households are treated better than children in homes with two biological parents!  Adoptive parents were more likely to enrich their children's lives to compensate for the lack of biological ties and invest more effort recognizing that adopted children needed more help to succeed. Nigel Barber, Ph.D., author of Kindness in a Cruel World, wrote a fascinating article in Psychology Today Blogs on June 1, 2009, about the subject (click here to read).  He analyzed two recent studies, both of which have findings that are inconsistent with the fairy-tale claim that parents cannot treat genetically unrelated children as well as their own kin.
In a study of homes having one natural child and one adopted child using records provided by an adoption agency for over 22 years, anthropologist, Kyle Gibson, concluded that adopted children were more likely to attend preschool and to receive private tutoring than biological children.  Adoptees had a better likelihood of receiving cars and personal loans, and their parents spent more time at the adoptees' sports events.  According to Gibson's study, the likely reason that parents invested more in their adopted children was not that they favored them or loved them more than their biological children, but that they recognized that adopted children had more significant problems such as drug or alcohol addiction, delinquency problems, and were more likely to receive welfare.  So, to avoid that result, parents of adopted children compensate and provide more involvement to their adopted children.
Laura Hamilton of Indiana University has written a thorough analysis about a 2007 study, which was published in the February edition of The American Sociological Review, with similar findings and conclusions.  She found that adoptive parents enrich their children's lives to compensate for the lack of biological ties and the extra challenges of adoption.  To read the study, click here.
Other studies have also concluded that adopted teens scored better than their non-adopted siblings in:
Connectedness – Having three or more friends and having access to two or more non-parent adults for advice.
Caring – Placing a high value on helping other people.
Social Competency – Friendship making and assertiveness skills.
Optimism – Expecting to be happy in 10 years and expecting to be successful as an adult.
Click here to read more about these conclusions from a study conducted by the Search Institute in Minneapolis.
Many adopted adults are quite successful and famous. Here is a list of adults who had been adopted as children:
Halle Berry (actress)
Robert Byrd (U.S. senator)
Peter and Kitty Caruthers (figure skaters)
Eric Dickerson (football player)
President Gerald Ford
Melissa Gilbert (actress)
Scott Hamilton (Olympic gold medalist skater)
Debbie Harry (singer, a.k.a. Blondie)
Faith Hill (singer)
Steve Jobs (co-founder of Apple Computers)
Bo Diddley (musician)
Jim Palmer (professional baseball player)
Nancy Reagan (former First Lady)
Les Brown (Motivational Speaker)
Dave Thomas (Founder of Wendy's)
Edward Albee (playwrite)
Ingrid Bergman (actress)
For more information about adoption, click here to link to the National Council for Adoption website, whose mission is to promote the well-being of children, birth parents, and adoptive families by advocating for the positive option of adoption.
© 2009, Ohio Family Law Blog. All rights reserved. This feed is for personal, non-commercial use only. The use of this feed on other websites breaches copyright. If this content is not in your news reader, it makes the page you are viewing an infringement of the copyright.

About The Author: Robert L. Mues
Robert Mues is the managing partner of Dayton, Ohio, law firm, Holzfaster, Cecil, McKnight & Mues, and has received the highest rating from the Martindale-Hubbell Peer Review for Ethical Standards and Legal Ability. Mr. Mues is also a founding member of the "International Academy of Attorneys for Divorce over 50" blog.
Fact or Fiction: Biological Children Fare Better Than Adopted Children?