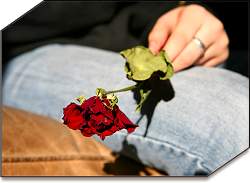 The Pentagon reported the divorce rate among military members increased again in the past year and is now a full percentage point higher than it was around the time of the September 11, 2001, attacks.  According to their figures, the divorce rate of about 3.6 percent for fiscal year 2009 increased from the reported 2001 rate of 2.6 percent.  Women in uniform continued to have a much higher divorce rate than their male counterparts – 7.7% in 2009 compared with only 3% for men.  Air Force Maj. April Cunningham, a Defense Department spokeswoman, said the latest year-to-year change was relatively small because the services have made available programs focused on strengthening and enriching family bonds among couples.  "We believe these programs are instrumental in mitigating the stresses deployment places on marriages," said Cunningham.
The actual data for the Afghanistan study indicated that the Army is trying to increase the number of mental health providers for the 68,000 US troops having problems such as acute stress, depression, and anxiety from the current number of 43 to roughly 103.  Seemingly, a very low number of counselors in my opinion!
"Every marriage has controllable and uncontrollable factors," said Joe Davis, spokesman for the Veterans of Foreign Wars.  "But when you interject eight years of war, preparing for war, being at war, coming home and having to think about going back to war again – and when you have children – it just has a tremendous impact on the family unit. . . . Still at the end of the day, it's that one mother or father who has to go home and close the door and be home alone with their children. There's nothing you can do that will end the stress of having a loved one at war until the war ends," said Davis.
The Pentagon acknowledges that their figures do not count veterans, who divorce after leaving the services, or reflect other possible wartime consequences on families, such as increases in alcoholism or the toll on orphaned or emotionally stressed children of troops.  Also, the figures do not speak to troubled but only intact marriages.  In an Army battlefield survey taken in Iraq in the spring, nearly 22 percent of young combat soldiers who were questioned said they planned to get a divorce or separation, compared to 12.4 percent in a survey conducted in 2003.
Regardless of how accurate the statistics are, the negative impact for military families and children by the two ongoing wars and repeated deployments continues to fracture military families.  Or, as a military's spokesperson spins it, "In both theaters of operation, soldiers continued to face stress resulting from multiple deployments, but report feeling more prepared for the stress."  Despite being "more prepared for the stress," even the military acknowledges that troops in their third or fourth deployment reported significantly more acute stress and other psychological problems, and married soldiers among them reported significantly more marital problems compared to soldiers on their first or second deployment.
As a divorce lawyer, I can tell you how important it is for individuals living in their hometown in a relatively "stable" situation to have access to mental health counselors, therapists and support groups.  I can't fathom the pain and burden of trying to fight a war abroad while being separated from a spouse and children and all the accompanying anxiety and stress. We certainly owe a huge debt of gratitude to each and every one of them!
© 2009 – 2018, Ohio Family Law Blog. All rights reserved. This feed is for personal, non-commercial use only. The use of this feed on other websites breaches copyright. If this content is not in your news reader, it makes the page you are viewing an infringement of the copyright.

About The Author: Robert L. Mues
Robert Mues is the managing partner of Dayton, Ohio, law firm, Holzfaster, Cecil, McKnight & Mues, and has received the highest rating from the Martindale-Hubbell Peer Review for Ethical Standards and Legal Ability. Mr. Mues is also a founding member of the "International Academy of Attorneys for Divorce over 50" blog.
Stress of War Shatters More Marriages