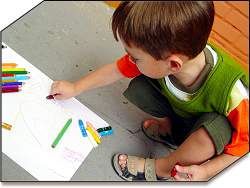 Of course, it goes without saying that it is in the best interests of children when both parents are actively involved in their lives. Typically, children who have both parents raising them are more successful in many areas, including their academics. Unfortunately, due to divorce and circumstances such as parents living in different cities or states, one parent is excluded from involvement in their child's school life. Often it seems that the father is the parent who does not feel needed or welcome in their child's school world. Fathers are many times unaware of school happenings such as teacher-parent conferences, report card dates, or special events at the school. Research supports that when the non-resident father is even marginally involved in their child's school life, the student is more likely to participate in extra-curricular activities, receive better grades, and enjoy school more.
Working with Non-Resident Fathers – A Guide for Educators of Children , a pamphlet published by Separated Parenting Access and Resource Center (SPARC), a non-profit organization dedicated to promoting the best interest of children in custody and divorce proceedings, is an excellent resource for the parent who feels out of the loop when it comes to their child's school life.
It is filled with practical tips for the non-custodial parent as well as suggestions for teachers and school administrators. If you are feeling uninvolved in school activities, contact, or if possible, visit your child's school to meet with his or her teacher to be sure that you will receive mailings and or emails about your child's progress, as well as information about upcoming events. Ask about the school's website and calendar as a way of keeping informed about what is happening. Many teachers have their own web-pages and keep grades and other pertinent information on line for parents to access.
If you are a school administrator or teacher, this pamphlet should be a definite read for you. It is chalk full of useful suggestions to make sure that you are doing all that you can do to include both parents so that the end result is that you have happy, involved, engaged children who are ready to learn.
To go to the SPARC website, click here. To read the publication, Working with Non-Resident Fathers – A Guide for Educators of Children, click here.
© 2009 – 2018, Ohio Family Law Blog. All rights reserved. This feed is for personal, non-commercial use only. The use of this feed on other websites breaches copyright. If this content is not in your news reader, it makes the page you are viewing an infringement of the copyright.

About The Author: Robert L. Mues
Robert Mues is the managing partner of Dayton, Ohio, law firm, Holzfaster, Cecil, McKnight & Mues, and has received the highest rating from the Martindale-Hubbell Peer Review for Ethical Standards and Legal Ability. Mr. Mues is also a founding member of the "International Academy of Attorneys for Divorce over 50" blog.
How Schools Should Work with Non-Residential Parents