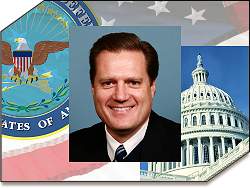 Recent articles and news programs have focused upon active duty military members who have returned from overseas tours of duty (often in the Middle East) to find themselves engaged and involved in "custody battles" with former spouses who are arguing it would be in the "best interests" of the minor child/children to remain with the parent who has provided care and custody during the year(s) the military parent was deployed overseas.
Michael R. Turner, R-Ohio, a member of the House of Representatives, has been trying for the past three to four years to pass an amendment to the National Defense Authorization Act ("NDAA") which would provide military parents child custody protection while they are serving out-of-country on active duty with any branch of the military service.  To read Turner's proposed amendment, click here. In a pointed letter directed to the Secretary of Defense, Robert M. Gates, on September 30, 2009, Representative Turner wrote:
"What is particularly troubling (to me) is that the Department of Defense has misplaced priorities with regard to federal protections for service members.  It has no objection to the FY10 NDAA House language allowing service members to cancel their cell phone contracts without penalty after orders of deployment, yet it opposes protecting the child custody rights of these same service members.  Surely, custody rights are at least equally important!"
To date, Turner has not been successful as the Department of Defense has taken the position that "child custody" matters should be resolved by state law rather than federal law. To read more about the official position of the Department of Defense, click here.  Only five (5) states have passed legislation supportive of military members regaining custody of their children when they return from overseas duty assignments.  Those states are Kentucky, Maryland, South Carolina, Tennessee, and Washington. There is presently no legislation on this matter pending in Ohio.
I shall now discuss three (3) representative court cases that have attracted some national notoriety over the past few years:
Lt. Colonel Vanessa Benson, a Kentucky resident, was deployed to Afghanistan in December of 2008.  She executed a Family Care Plan wherein her former Husband would have temporary custody of their son during her overseas deployment.  When she returned from Afghanistan, she expected to be reunited with her fourteen (14) year old son.  This was not to be as her former Husband filed a suit in Florida asking that he be designated as the primary residential parent based upon a "substantial change in circumstances".  Father argued that it would be in the child's "best interest" for him to be granted "custody" as he could provide more "stability" for the minor child.Lisa Davidson, a Brevard County Florida Circuit Judge, recently ruled that Lt. Colonel Benson be awarded "temporary custody" of the minor adolescent son so that he would spend Christmas 2009 with his Mother and her new family at Mother's place of residence.

This is a difficult case since the fourteen (14) year old has told the Court that he wants to remain with his Father, in part because he is not fond of Mother's new Husband.  While Mother argues that Father has "bought" the Son's allegiance with a motorbike and new drum set, Father asserts that the Son wants to remain with him in Florida.  There will no doubt be additional Court proceedings in this case!

Staff Sergeant Jessica Tolbe served a twelve (12) month assignment in Iraq.  When she returned home to Hawaii in February 2009, she expected to be reunited with her two sons, ages eight (8) and ten (10).  Instead, she found herself involved in a "custody battle" in Tennessee with her former spouse who argued that he was more "stable" than Mother/Wife. Even though Father is in the military, he is not subject to being deployed overseas.  At the present time, the two (2) sons remain in the custody of Father with Mother having rights of visitation.  It must be noted that if Mother asks to be placed in a "non-deployable position", she would be saying "good-bye" to a successful military career, and she would be denied the opportunity for further promotions. (Note the similarity in the Fathers' arguments: I am inherently more "stable" than the Mothers of the children because I am not subject to deployment to fight a war.)
Clinton M., an Air Force Tech Sergeant, received military orders to deploy to Afghanistan in January 2009.  His former spouse attempted to keep the parties' minor child with her in California by refusing to return the Daughter to Father's family in North Dakota.  At a hotly contested trial, the assigned Judge ruled that the child would be returned to the Father forthwith.In this particular case, the child's Mother kept reporting that the parties' Daughter was being "abused" by the current Wife of Father.  The allegations of abuse were not substantiated and added unnecessary drama and delay to the outcome of the case.
CONCLUSION:
I am in support of Michael Turner's proposal to change the federal law to protect the men and women who are fighting for us here and overseas in order to protect us and our freedom. It does not seem fair or logical that a military member (Husband or Wife) who is deployed overseas should return home after a remote tour of duty to find that he or she is now engaged in a "custody battle" regarding the parties' child or children.  It appears that the parent having "temporary custody" of the child or children during the other parent's deployment is using the military deployment as a "substantial change of circumstances" in order to gain "custody" of the minor child or children.  This position is not fair or equitable to our men and women in uniform who risk their lives for you and for me while defending our country!
© 2010 – 2018, Ohio Family Law Blog. All rights reserved. This feed is for personal, non-commercial use only. The use of this feed on other websites breaches copyright. If this content is not in your news reader, it makes the page you are viewing an infringement of the copyright.

About The Author: Anne Shale
Anne Shale is of counsel to Dayton, Ohio, law firm, Holzfaster, Cecil, McKnight & Mues. She is a former registered nurse and concentrates her practice in Family Law and Divorce cases.
They Fight For America and Upon Return Must Fight For Their Children…