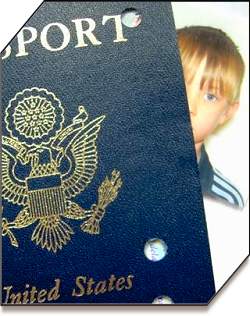 For those of you that read our Ohio Family Law Blog regularly, you are familiar with problems that may arise when your children travel internationally.  Specifically, one parent may abduct your child to his or her home country.  Another issue may be that you send your child to visit his or her parent in another country and that parent refuses to allow the child to return.  If the country that the child is in is a signatory to the Hague Convention, there are mechanisms that may assist the parent in obtaining the child's return.  This process, however, can be costly, time consuming, and produce uncertain results.  So you ask, what steps can you take to protect your child from ever being placed in that position?
The United States Department of State has anticipated that very problem and has instituted a program that may alleviate some of those fears.  The Children's Passport Issuance Alert Program ("CPIAP") was established to fight child abduction of any kind.  Essentially, the program creates a protocol where a parent or both parents is contacted if there is a passport application made on behalf of a child who is registered.  The parent who is notified then has an opportunity to register an objection if the child is not supposed to be leaving the country, or travelling to another country if he or she is already overseas.  If there is an objection filed, the State Department issues an alert to all U.S. passport agencies as well as to all foreign embassies and consulates.  The theory is to give the parent advance notification of the possibility of international travel with a child so that the parent may take steps to prevent it.
Obviously, this is a good step to take in situations described above.  But it is hardly fool-proof. It is also a good prevention method to take in other situations as well.  Even if both parents reside together and the Hague issues are not present, this step of registering your child can prevent a stranger, friend, or other family member from being able to successfully obtain a passport for your child, who may be planning to abduct him or her at a later date.
The CPIAP is administered through the Charleston Passport Center, a part of the United States Department of State.  Any parent who has not had their rights terminated may register their child, even if they are not the custodial parent.  There are a few requirements, however, to be eligible.  First, your child must be a United States citizen.  Second, your child must be under the age of eighteen.  Finally, you must complete the registration process.  The process of registering is fairly simple.  All you need to do is to fill out the Entry Request Form, provide identification and a copy of your child's birth certificate.  You can mail, fax or even email the documents to the Charleston Passport Center to get registered.
For more information please click here.
© 2010 – 2018, Ohio Family Law Blog. All rights reserved. This feed is for personal, non-commercial use only. The use of this feed on other websites breaches copyright. If this content is not in your news reader, it makes the page you are viewing an infringement of the copyright.
About The Author: Shawn P. Hooks

Child Abduction a Worry? Do You Have a Passport Block in Place?