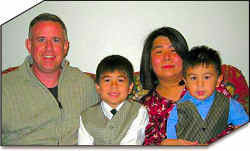 On October 24, 2009, our Ohio Family Law Blog published an article entitled, "U.S. Father Arrested In Japan For Picking Up Children 'Abducted' By Ex-Wife…The Rest Of The Story"!  On Sunday, August 15, 2010, the Dayton Daily News published a human interest news story entitled, "Dad With Custody Can't Get Kids From Ex-Wife In Japan".  The 2009 article involved a Father from the State of Tennessee having a former Wife secret his two children away to the Country of Japan without his knowledge or consent. The most recent incident reported in the Dayton Daily News involves a Father residing in the State of Ohio whose Wife secreted his two children to the Country of Japan without his knowledge or consent before the termination of the parties' marriage.  The subject Father, Kent Swaim, is a client of our firm.  He has given us permission to share his story!
Facts of the Kent Swaim Case:
Kent Swaim ("Husband/Father") is an active duty member of the United States Air Force.  While serving his country in Okinawa, Japan, the parties met at an ice cream parlor on the island.  They dated one another and he later married Miyuki on May 21, 1999.  Their first child, William, was born on December 17, 1999, while Kent was still stationed at Kadena Air Force Base, Okinawa.
Husband was later reassigned to Lakenheath Air Force Base ("AFB"), England.  A second son, James, was born in England on December 5, 2004.  Both of the Swaim children are citizens of the United States by virtue of their Father being a citizen of the United States.
While Husband was stationed at Lakenheath AFB, Wife experienced symptoms of clinical depression and had two suicide attempts.  Husband actively encouraged Wife to participate in counseling and to take prescribed anti-depressant medications.  According to Husband, Wife would take the medications until she felt better and then stop taking them as directed.  Time and time again, she would experience a downward decline in her mental health and stability when she discontinued the anti-depressant medications.
In 2006, Husband was reassigned to Wright-Patterson AFB in Fairborn, Ohio. Wife again experienced symptoms of depression;sometimes sleeping for up to fourteen (14) hours per day.  She was unable to take care of herself, her children, or the house. Repeatedly, Husband urged and encouraged Wife to obtain mental health treatment for her depression and for her to take the prescribed anti-depressant medications.  Wife refused to follow-through with counseling, therapy, and medications.
In June 2008, Husband did advise Miyuki that if she would not commit to obtaining treatment for her clinical depression that he would seek a divorce from her.  For Wife, that may have been the "factor" that "triggered" her "flight response" to leave Husband with the parties' two minor children.

On July 7, 2008, Husband read a book to William and James as part of their bedtime routine.  That was the last time that he saw and held his two sons (hugging them and giving to them a "good night" kiss)!

On July 8, 2008, Miyuki had asked if she could have the car as she had shopping to do and errands to run.  When Husband returned home from work that day, he was extremely distraught to find that no one was at home, the family car was gone, pictures had been removed from the walls of the home, the clothing belonging to Wife and the children was gone, and more important, the children's birth certificates and passports were missing!
Husband immediately tried to file a Missing Persons Report with the Clayton Police Department. Officers from the City of Clayton Police Department came to the home but did not seem to take any positive action to ascertain where his wife and the two children were. Approximately four weeks passed before Kent actually "knew" where his wife and children were. He finally confirmed that Miyuki had indeed taken their children back to her home in Okinawa, Japan, when he dialed numbers on a recent telephone bill and Miyuki answered the phone. She then advised him that he could have the house, car, and everything else but that she was keeping the children!
On September 3, 2008, Husband filed his Complaint for Divorce in Montgomery County, Ohio, with alleged grounds of gross neglect of duty in failing to act as a Wife to Husband and extreme cruelty in fleeing the country with the two minor children, thereby depriving him of companionship and meaningful contact with the children.  He also alleged the parties had become incompatible in their marital relationship.
Because Wife was living in a country (Japan) which is not a member of the Hague Convention, it was necessary to serve her with Husband's Divorce Complaint via Letters Rogatory.  This was a lengthy and expensive process as all pleadings had to be translated into Wife's native language and an international process serving firm had to be hired to accomplish personal service upon her.
Wife finally filed her Answer to Husband's Complaint and an Amended Answer to the Complaint on January 12, 2009.    A "contested" divorce proceeding took place on November 30, 2010, before the Honorable Judith A. King.  Her written Decision was rendered on March 19, 2010.  The Court awarded sole custody, care, and control of the parties' two minor children, William and James, to Husband/Father.
The parties' Final Judgment and Decree of Divorce was filed on May 21, 2010. Neither party filed objections or appeals to the Court's Decision or to the Final Judgment and Decree of Divorce.
Discussion of the Case:
Japan, an industrialized and modern nation, is not a signatory to the 1980 Hague Convention on the Civil Aspects of International Child Abduction.  In short, this means that Japan will not "enforce" the Order of Custody that Kent Swaim has for his two children to be returned to him. So, if he chooses to take similar action as that taken by Christopher Savoie in September 2009, to go to Japan and attempt to personally retrieve his children, he risks arrest and imprisonment by the Country of Japan.
What can Kent Swaim do?
His legal avenues to even see his boys are very limited. He can continue to hope that Japan will become a signatory of the Hague Convention and that "negotiations" can and will be made for the safe return of his two children.  In addition, he can continue to hope that the State Department will be of assistance to him.
What preventative steps should other parents take?
If you, as an American citizen, are married to a non-citizen spouse, you should have your children's birth certificates and passports kept in a secured and locked location.  Without birth certificates and passports, it is likely that Miyuki Swaim and Noriko Savoie would NOT have been able to return to the Country of Japan with their minor children.
After the newspaper coverage, I discussed with Kent his reaction. Interestingly, he stated that he felt the response from the police would have been much more "pro-active" if he had been the party who had removed the children from the home rather than their mother. He believes that there has been a gender bias throughout the entire ordeal, almost ignoring his rights because he is "just" their father and not their mother!
I also submitted a follow-up letter to the DDN editor suggesting other important preventative steps that should be taken by parents to avoid this type of catastrophe. To read that letter published on August 29, 2010, click here.
To read the three articles, including the one on the front page of the Dayton Daily News on August 15, 2010, about Kent Swaim's situation, please click here.
© 2010, Ohio Family Law Blog. All rights reserved. This feed is for personal, non-commercial use only. The use of this feed on other websites breaches copyright. If this content is not in your news reader, it makes the page you are viewing an infringement of the copyright.

About The Author: Anne Shale
Anne Shale is of counsel to Dayton, Ohio, law firm, Holzfaster, Cecil, McKnight & Mues. She is a former registered nurse and concentrates her practice in Family Law and Divorce cases.
A Local Case of "Child Abduction" Involving the Country of Japan