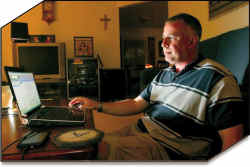 Here is an update about our client, Kent Swaim, whose two sons were abducted to Japan by their mother, published in the DDN on September 8, 2010.
Abducted Clayton boys registered on national criminal justice list
Authorities can use designation to urge Japanese to send sons back to father.
By Mary McCarty, Staff Writer Updated 1:27 AM Wednesday, September 8, 2010
Clayton father Kent Swaim has won an important victory in his quest to be reunited with the two young sons he hasn't seen since his former wife fled with them to her native Japan two years ago.
The boys finally have been registered with The FBI's National Crime Information Center (NCIC), a computerized index of criminal justice information, including missing children.
Swaim's plight was featured in an Aug. 15 Dayton Daily News story. The Wright-Patterson Air Force Base master sergeant had long been frustrated by his inability to convince authorities to enter the children in the database.
"This gives the U.S. State Department and the National Center for Missing and Exploited Children the tools they need to help me and take this next step," Swaim said. "It gives them the authority to plead with the Japanese authorities to do something."
Montgomery County Domestic Relations Court Judge Judith King has awarded Swaim full custody of sons William, 10, and James, 5, but his former wife, Miyuki Swaim, hasn't complied with the court order to return the boys to the United States. Swaim doesn't know their address or phone number in Okinawa, but was repeatedly told that the boys still didn't meet the criteria for inclusion in the NCIC database because they were known to be safe.
Lt. Matt Hamlin of the Clayton Police Department credited officers from the Montgomery County Dispatch Center with convincing NCIC officials to grant permission to register the Swaim boys. "It's what we've been waiting for," Hamlin said. "Now the State Department can work with Interpol and the Japanese government for the return of the boys."
Swaim's attorney, Anne Shale, said he has been fighting for the boys for more than two years with little success. "This gives him hope," she said.
To read Mary McCarty's article online or for her contact information, click here. For more about Kent's situation, or to learn steps to prevent these types of situations,click here.
Please click here to see a news story that aired September. 8, 2010, on WKEF-TV in Dayton, Ohio.
© 2010, Ohio Family Law Blog. All rights reserved. This feed is for personal, non-commercial use only. The use of this feed on other websites breaches copyright. If this content is not in your news reader, it makes the page you are viewing an infringement of the copyright.

About The Author: Anne Shale
Anne Shale is of counsel to Dayton, Ohio, law firm, Holzfaster, Cecil, McKnight & Mues. She is a former registered nurse and concentrates her practice in Family Law and Divorce cases.
The FBI has Registered the Local Children Abducted to Japan as "Missing Children"