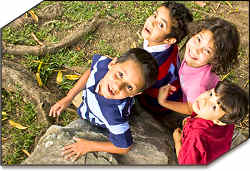 Would my kids be better off if I got a divorce" is one of the toughest questions I have been asked in therapy. I try to help parents work through this complicated question. The answer has lifelong implications for the entire family.
Here are the five factors that I ask parents to consider:
1. Unhappy marriages can improve. Overwhelmed by the stress of work, children and a perceived lack of support from a spouse, many parents feel trapped in unhappy relationships with few prospects for improvement. Recent research by Linda Waite has challenged that assumption, finding that two-thirds of unhappy spouses who stayed together actually improved their marriages over a five-year period. Sometimes couples' satisfaction was due to actively working on problems, but in other cases marriage partners just became more accepting of their spouses. In other situations, marital satisfaction increased when stressful events such as finances or child-rearing decreased.
2. Divorce doesn't always bring happiness for the adults. Some of the same issues that cause an unhappy marriage can linger on after a divorce. I've found that many parents, both men and women, misattributed the reasons for their unhappiness. They blame their spouses for feeling unhappy or unfulfilled and romanticized that life would be wonderful if they were alone or with a different partner. Research has found just the opposite. One 10-year study found that divorced men were six times more likely than their married counterparts to experience depression and women were three and a half times more likely to be depressed. These results are understandable in view of the many financial, social and psychological problems that come with a divorce.
3. Divorce is generally bad for children. Kids growing up with divorced parents are at a significant risk for serious academic, behavioral and social problems. They are more likely to drop out of school and become pregnant during their teen years. As adults, they are twice as likely to get a divorce as kids who grew up with married parents. Youngsters from divorced families typically have less contact with their parents, less supervision during their childhood and experience more stress associated with numerous changes in their lives.
4. Divorce is good for some kids. One of the few occasions when I do strongly advise parental separation is when the safety of the children is at risk, due to physical or sexual abuse, violence or drug abuse. Kids deserve a safe home, even if that means with separate parents. Kids raised in homes with constant conflict live a terrible life, feeling insecure, unsafe and unwanted. They often blame themselves for marital discord and enter into unhealthy relationships to find acceptance.
5. Your ex-spouse is rarely an ex-parent. Many parents experiencing marital problems are under the illusion that their problems with their spouse will end with a divorce decree. Unless one spouse gives up parental rights, you'll still need to communicate and compromise with someone you may not like. Please remember this as you go through your divorce process.
To sign up to receive Dr. Ramey's Family Wise monthly E-newsletter, click here. For more of his columns, visit www.childrensdayton.org/ramey and join Dr. Ramey on facebook at www.facebook.com/drgregramey.
[Reprinted by permission from the August 29, 2010, edition of the Dayton Daily News, "Should I get a divorce for the sake of my kids?", Family Wise, Gregory Ramey, PhD]
© 2010, Ohio Family Law Blog. All rights reserved. This feed is for personal, non-commercial use only. The use of this feed on other websites breaches copyright. If this content is not in your news reader, it makes the page you are viewing an infringement of the copyright.

About The Author: Guest Contributor Gregory Ramey, PhD, Child Psychologist and Dayton Daily News Columnist
Gregory Ramey, PhD, is a nationally recognized child psychologist and columnist who has worked at Dayton Children's Hospital since 1979. In addition to his weekly column in the Dayton Daily News about effective parenting, Ramey has conducted more than 200 workshops and has recently been quoted in articles in Redbook, Parenting, Ladies Home Journal as well as columns distributed by the New York Times Wire Service.
Should I Get a Divorce for the Sake of My Kids?