Last December, I posted an article entitled "How to Dress for Court – Do's and Don'ts".  Today, my article will focus upon proper demeanor and behavior at court appearances.  I will first discuss the basic "To Do List"!
The "To Do's"
It is imperative to be on time!  If the hearing is scheduled to take place at 9:00 a.m. you should be present to meet with your attorney at least fifteen minutes early. If you don't know where you will be going, it might be a good idea to make a "trial run" beforehand.  Just don't be late…it is not excusable by the Court for a party to be "tardy" for a hearing before the Court.
If you have babies, toddlers, or young children, please find a babysitter or day care center to provide for their care.  Our Courts can be crowded and the waiting areas and Courtrooms are not comfortable or conducive places for having young children. Further, you may be asked to make some important decisions at the time of your hearing.  Having a baby or toddler who may be "fussy" or "irritable" may distract you with the decision-making process.
If you are already involved with another "significant other", do not bring him or her to Court with you!  Bringing a "significant other" to the final Court hearing usually does nothing but inflame an already fragile situation.  If you feel you must have "emotional support", bring a parent or a sibling or a good friend.
Eat breakfast and be certain you have ingested adequate liquids so that you are not dehydrated. Consider bringing a bottle of water along with you.  The hearing may bring out emotions. If you think you are going to be upset and queasy, bring some Rolaids, mints, and/or crackers with you.
If you anticipate being "teary", bring a box or handful of kleenex with you.  The Court does have them available; but, if you know you are going to be in need of tissues, plan ahead and bring them with you. That way, they shall be immediately available.
Behavior Tips While in the Courtroom
Be certain that your cell phone is turned off.  The Court may fine a person whose cell phone rings during a Court hearing.
When the Judge enters the Courtroom, you should always stand up from your seat to show respect and deference to the Court.
You should be silent unless asked a specific question by the Court.
If you need to communicate with your attorney, have a pad of paper and a pen and write a note to your lawyer.  The Judge may admonish you even if you whisper to your attorney.
If you need to use the restroom or if you need to have a "break" for emotional or other reasons, your counsel can ask for a brief recess from the Court.
If you are upset or distraught by a ruling from the bench, you should remain silent and later discuss your reactions with your attorney.  Never argue or allow non-verbal body language to show displeasure.
Conclusion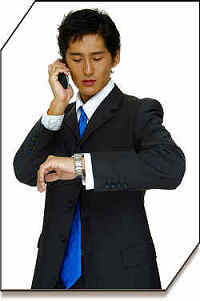 In thinking back over twenty-two (22) years of practice, I recall several instances of inappropriate conduct or behavior in Court.  Years ago, I had a father argue that he had a constitutional right to drink alcohol in his home during football games.  I was advised by the Magistrate to "control the behavior of my client" and to remove him from the Courtroom until I had counseled him.  He felt compelled to tell the Judge that he had the right to drink alcohol during football games when he had visitation with his children.  Not surprisingly, his argument was not well received by the Court.  More recently, I had a client shout out to the Court… "those are my babies"!  I was again counseled to advise my client that her outbursts were not going to be tolerated by the Court. The bottom line is that everyone must afford the Judge or Magistrate the utmost deference and respect.
© 2010, Ohio Family Law Blog. All rights reserved. This feed is for personal, non-commercial use only. The use of this feed on other websites breaches copyright. If this content is not in your news reader, it makes the page you are viewing an infringement of the copyright.

About The Author: Anne Shale
Anne Shale is of counsel to Dayton, Ohio, law firm, Holzfaster, Cecil, McKnight & Mues. She is a former registered nurse and concentrates her practice in Family Law and Divorce cases.
Demeanor and Behavior in Court