The topic for this particular article concerns Ohio's Domestic Violence Statute which is O.R.C. Section 3113.31.  In it "domestic violence" is defined as the occurrence of one or more of the following acts against a family or household member:
Attempting to cause or recklessly causing bodily injury.
Placing another person by threat of force in fear of imminent serious physical harm or committing a violation of section 2903.311 (menacing by stalking) or section 2911.211 (aggravated trespass) of the Ohio Revised Code.
Committing any act with respect to a child that would result in the child being an abused child, as defined in section 2151.031 of the Ohio Revised Code.
Committing a sexually oriented offense as defined in section 2950.01 of the Ohio Revised Code.
Some readers may be wondering, "what is a Civil Protection Order?"  A Civil Protection Order (CPO) is an Order that can be granted by a Court upon hearing a petition alleging domestic violence.  It is initiated in the Common Pleas Court usually in the Domestic Relations Division. This is the civil counterpart to a criminal Temporary Protection Order (TPO) which is often issued against a defendant charged with a crime such as domestic violence, menacing or assault. The criminal TPO will only stay in effect as long as the criminal action is pending. When the criminal case is over, the TPO ends. It is not uncommon for both a TPO and CPO to be in effect at the same time.
The Civil Protection Order directs the Respondent to do or perform certain actions such as:
To refrain from abusing or from committing sexually oriented offenses against the family or household members.
To vacate the premises and granting possession of the residence or the household to the Petitioner or other family or household members.
Allocating temporary parental rights and responsibilities (custody and visitation) of any minor children of the parties.
To provide for financial support of the Petitioner and the minor children of the parties.
To seek counseling in regard to the domestic violence.
To refrain from entering the Petitioner's residence, school, business or place of employment of the Petitioner or other family members.
Such other relief that the Court considers to be equitable or fair.
To learn more about civil domestic violence proceedings in Ohio, click here to read an article posted last year on our blog about this subject.
Going back to the initial question or inquiry for this article, if a spouse has been verbally abusive to his or her spouse, does the verbal abuse rise to the level of domestic violence?   What is verbal abuse?  We hear about it all the time…common examples that I hear from clients:
He/she calls me the "b" word.
He/she says that I am lazy and that I need to get off my a… and get to work.
He calls me a whore and says that I am no good!
He calls me the "c" word.
He/she tells me that I am no good and a horrible person and mother/father.
He/she tells me that I am worthless and useless and should leave the home.
He/she tells me that I am crazy and a "sicko"!
A review of the holdings in three recent cases by the 2nd District Court of Appeals for the State of Ohio might be instructive: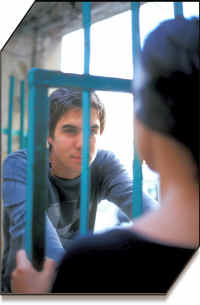 CASE STUDY ONE:
On January 14, 2005, Husband and the parties' 18-year-old daughter returned to the home near midnight.  Husband was in a drunken state and began to argue with Wife.  Husband used rude and vulgar language toward Wife.  The argument ended and everyone went to bed.
The next morning another argument ensued between Husband and Wife.  Husband again used rude and vulgar language.  The loudness of the argument wakened the daughter and she came downstairs to see what was happening between her parents.  When Wife indicated she was going to call a friend for assistance, the daughter grabbed and twisted her Mother's arm.  Wife threatened to call the police and Husband and daughter left the home.  When the police arrived and heard Wife's story, the officers advised her to seek a Civil Protection Order (CPO).
During the CPO hearing, Wife testified that she was in fear of her daughter and her Husband.  She then told the Court about an incident that had happened five (5) years earlier wherein Husband had used a mallet to smash the window of her car as she was trying to drive away from the home.
Although the Trial Court found that Husband did not touch Wife and did not threaten her,  a CPO was granted based upon the earlier incident involving the smashed window.  Husband appealed the decision of the Court.
The 2nd District Court of Appeals reversed the decision of the Trial Court finding that the earlier incident was too remote in time to be relied upon now.  The Court of Appeals also felt that Husband's behavior on January 15, 2005, was not sufficient to place Wife in "fear of imminent serious physical harm".  Young v. Young (2006 Ohio 978; 2006 Ohio App. LEXIS 900).
CASE STUDY TWO:
On December 11, 2002, Husband, believing that Wife had taken from his jacket a slip of paper reflecting a certain telephone number, began yelling and cursing at Wife.  When Wife threatened to call the police, Husband pushed her and ripped the phone from the wall.  Wife states Husband continued to scream and curse at her and broke/disabled a second telephone.  Police responded to a call, arrived at the home, but did not arrest either party.
Husband's version of the incident is that he did not shove or push Wife and that she slipped and fell when he tried to pull away from her.  Further, Husband denies that he screamed or cursed at Wife and denies that he threatened her.
Later that same afternoon, Wife went to a local police station and provided a statement to a police officer.  When the police officer asked Wife if Husband had used any violence against her, she replied in the negative.
Procedurally, the Magistrate granted the CPO to Wife, and initially, the Trial Court adopted the Magistrate's Decision.  Husband responded by filing Objections to the Magistrate's Decision. Subsequently, the Trial Court agreed with Husband relying upon Wife's statement to the police officer wherein she denied there had been any violence.  Wife appealed the ruling of the Trial Court.  The 2nd District Court of Appeals affirmed the Decision of the Trial Court in dismissing the CPO on the basis that Wife's statement to the police officer was that she did not fear imminent serious physical harm.  Rank v. Rank (2003 Ohio 6524; 2003 Ohio App. LEXIS 5820).
CASE STUDY THREE:
During the summer of 2002, Husband and Wife were engaged in an argument.  Wife was yelling at Husband as he tried to exit the room.  As he was trying to leave, Wife yelled something to Husband that made him "snap".  He walked over to her and grabbed both of her arms.  This action caused Wife to fall backwards on her heels.  Husband gripped her arms ever more tightly and lifted Wife up so that she could regain her balance.  Husband then let go of Wife's arms and apologized to her.  The foregoing facts were corroborated by their son's testimony in Court.
The Trial Court found that this altercation was an isolated incident which was apparently resolved by the parties as they continued to live with one another until April, 2003. During that month, there was an incident between Husband and Wife;s daughter who had missed her school bus one morning.  While Husband drove her to school, the daughter suggested that he was driving recklessly and with anger.  During the trip, Husband told Wife's daughter that he was going to kick her and her mother out of his home.  Husband also made threats about Wife to a mutual friend and again alleged he was going to have Wife removed from his home.
Wife filed for a Civil Protection Order and was initially granted a CPO by the Magistrate.  The Trial Court later vacated the CPO finding that the events taking place in April, 2003, did not violate the domestic violence statute.  Wife appealed the Trial Court's Decision and the matter was addressed by the 2nd District Court of Appeals.  While the Husband denied driving angrily or recklessly, the Court found there was no testimony of threats of force sufficient to satisfy the definition of domestic violence.  With regards to the verbal abuse, the Court found that Husband's alleged threats (to remove Wife and daughter from his home) did not rise to the level of causing Wife to be fearful of imminent serious harm.  Tyler v. Tyler (2004 Ohio 5784; 2004 Ohio App. LEXIS 5220).
CONCLUSION:
The Courts seem to agree that verbal abuse on its own is not sufficient to cause a reasonable person to believe that he or she was in fear of imminent serious physical harm.  To obtain a Civil Protection Order, one party must be able to convince a Magistrate or Judge that he/she was threatened by the use of force and that he/she believed that imminent serious physical harm would take place or that, in fact, serious physical harm did occur during the violent incident. To learn more on this subject, click here to go to the Ohio Domestic Violence Resource Center's website.
© 2011 – 2010, Ohio Family Law Blog. All rights reserved. This feed is for personal, non-commercial use only. The use of this feed on other websites breaches copyright. If this content is not in your news reader, it makes the page you are viewing an infringement of the copyright.

About The Author: Anne Shale
Anne Shale is of counsel to Dayton, Ohio, law firm, Holzfaster, Cecil, McKnight & Mues. She is a former registered nurse and concentrates her practice in Family Law and Divorce cases.
Can a Spouse Obtain a Civil Protection Order for Verbal Abuse?