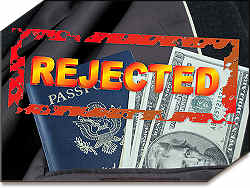 Most people don't realize that if you have a child support arrearage of more than $2,500 that you are NOT eligible for either a renewal or the issuance of a U.S. passport.  Also, be aware that there is no guarantee that even if your arrearage balance is below $2,500 that you will be allowed to obtain a passport because you are still in arrears. Many people who had intended to travel abroad have learned about this restriction the hard way and ended up having their plans aborted by a passport denial. Think about the implications if, for example, you were planning on getting married overseas and the passport request is denied.
To learn more, click here to go to the U.S. State Department's Travel Abroad website to read about the mandatory process that must be undertaken before any passport application will be processed. You need to make arrangements to pay the State Support Enforcement Agency where child support is owed BEFORE you submit your application for a U.S. passport.  Also, all questions about your child support arrears or the status of a payment should be directed to that appropriate State Support Enforcement Agency and not to the U.S. State Department or the U.S. Department of Health and Human Services as they will be unable to help you.
In Ohio, it would be best to first contact the Support Enforcement Agency in the County administering the account. For instance, the contact phone number in Montgomery County, Ohio, is 1-800-555-0430. If you find yourself in this situation, call them and discuss a payment plan.  Payment is generally the only solution to this problem.  For more information about making child support payments in Ohio click here.
However, if you dispute what you owe and feel that you have been wrongly accused of owing support in excess of $2,500, then action needs to be taken immediately. In many instances the arrearage figure may be in error and incorrect. If you are not able to resolve that issue directly yourself with the Support Enforcement Agency, it may be necessary to file a motion in Court to correct the arrearage amount. That entire Court process may take several months to accomplish. Then, even after the Court issues a decision, it may take time for the agency to correct its records and send the updated account information to the State Department. Also realize that after the new information is received by the passport office, they say it takes generally 2-3 weeks before Passport Services will start to process your application. Thereafter, if all goes smoothly, allow at least another 6 weeks to receive the passport.  So, a word to the wise is to plan as far ahead as possible so you don't end up stateside and miss the big event!
© 2011, Ohio Family Law Blog. All rights reserved. This feed is for personal, non-commercial use only. The use of this feed on other websites breaches copyright. If this content is not in your news reader, it makes the page you are viewing an infringement of the copyright.

About The Author: Robert L. Mues
Robert Mues is the managing partner of Dayton, Ohio, law firm, Holzfaster, Cecil, McKnight & Mues, and has received the highest rating from the Martindale-Hubbell Peer Review for Ethical Standards and Legal Ability. Mr. Mues is also a founding member of the "International Academy of Attorneys for Divorce over 50" blog. Mr. Mues has also been a dog owner for 55+ years, and just recently, he and his wife are the owners of "Ralph", a rescued mixed Wire Hair and Jack Russell Terrier.
Non-Payment of Child Support May Result in Denial of a Passport