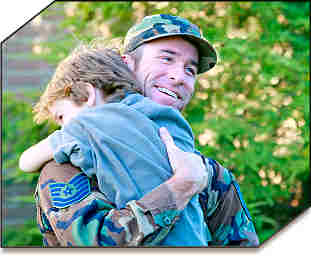 On February 6, 2010, I posted an article entitled, "They Fight for America and Upon Return Must Fight for Their Children". The article addressed the issue of active duty servicemen and servicewomen returning from overseas assignments, often in the Middle East, to find that their former spouses were using the overseas military assignment as a "substantial change in circumstances" to obtain a change in custody of their minor children.  At the time of that posting, Michael R. Turner, R-Ohio, was trying to persuade Secretary of Defense, Robert M. Gates, to agree that active duty military parents should receive child custody protection while they were deployed out of the country.  The Department of the Defense had opposed this protection and Turner's proposed legislation.
On February 11, 2011, Secretary of Defense Gates responded to Representative Michael Turner in a brief letter which said that his Department "was/are willing to consider whether appropriate legislation can be crafted that provides Service members with a federal uniform standard of protection in cases where it is established that military service is the sole factor involved in a child custody decision involving a Service member."  Click here to read his letter.
On February 16, 2011, Congressman Turner posted a press release entitled, "Gates Joins Turner in Fight for Service Member Child Custody Rights" wherein Representative Turner stated, "I join families of Service members around the globe in thanking Secretary Gates for his support of their parental rights.  Our men and women in uniform should not have to worry about losing their children while they defend us overseas." Click here to review it.
Let us hope this legislation is passed by both houses of Congress to give our active duty military servicemen and women the protection they need and deserve as they fight for us and the freedoms we enjoy!
© 2011, Ohio Family Law Blog. All rights reserved. This feed is for personal, non-commercial use only. The use of this feed on other websites breaches copyright. If this content is not in your news reader, it makes the page you are viewing an infringement of the copyright.

About The Author: Anne Shale
Anne Shale is of counsel to Dayton, Ohio, law firm, Holzfaster, Cecil, McKnight & Mues. She is a former registered nurse and concentrates her practice in Family Law and Divorce cases.
BREAKING NEWS: Secretary of Defense Gates Changes Position to Protect Custodial Parents Deployed Overseas!