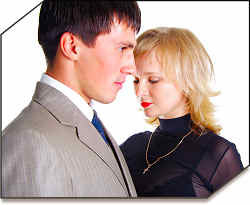 "Wait a minute!  Did I read that right?  Marriage 'building' advice and links to what sounds like a marriage 'strengthening' organization on a Divorce Attorney's website…what's up with that?"  Those thoughts and questions may have run through your mind as you have explored our law firm's blog and website, but you read correctly.  The desire to help strengthen marriages and prevent divorce, if at all possible, may be unusual in our industry, but saving marriages and strengthening families is good for society!  To that end, our website, as well as our Ohio Family Law Blog, provides people with links to pro-family organizations like Marriage Works! Ohio, an organization whose mission is helping couples strengthen their relationships.
We have teamed up with Marriage Works! Ohio since 2009 when they agreed to write monthly "Relationship Builder Tips" for our Ohio Family Law Blog. Those tips have been very well received and are an integral part of the blog. If you want to read an archive of those tips, click here. I was interested in learning more about the organization and the author of those tips. I recently had the pleasure of personally meeting Sydney Battle, the Support Services Supervisor and Men's Mentor at Marriage Works! Ohio.
We had a terrific meeting at the Marriage Works! Ohio building located at 2201 N. Main Street in Dayton. Sydney explained that Marriage Works! Ohio focuses on helping individuals and couples enrich and strengthen, or prepare for, their relationships.  Their professional staff meets with couples to discuss issues such as communication, conflict resolution, infidelity, divorce prevention, and reconciliation.  The group specializes in providing relationship and marriage education using the Marriage/Relationship Builders, Love Thinks, and Healthy Couples curricula.
Marriage Works! Ohio strives to get its message out to the community in a variety of ways. It advertises its services on billboards, RTA busses, television, the internet, and especially through word-of-mouth referrals.  The group conducts informational meetings wherever it can, but most often at churches, YMCAs, or similar public venues.  People can then schedule couples or individual one-on-one training.  It tries to cater to the busy schedules of the people who come to the group for coaching and education.  Free child care and free meals are often offered to make classes more user friendly.
The classes are designed to be relevant, practical, and to help people permanently change behavior.  Love Thinks, for example, is a free class for couples at any stage in their relationship.  Growing a Loving, Lasting Marriage is a class that teaches techniques to resolve conflict, understand differences and sow the seeds of forgiveness.  Recently, because of the overwhelming evidence that shows the importance of a strong, male role model in the home, the organization has developed programs specifically designed to teach men how to flourish in their relationship and as part of a family unit.
Marriage Works! Ohio is not a counseling or therapy organization.  In fact, if people come to the organization needing specialized intervention involving things such as domestic violence, depression, substance abuse, or after-divorce care, they will be provided with referrals to local providers that can better meet those needs.
If you think you're too old, too young or that your relationship is "too far gone", Sydney pointed out that there is no "typical" couple that comes to Marriage Works! Ohio. People of every race and economic background, from their early 20s all the way up to people in their 60s, and who are dating, engaged or married, come to obtain relationship coaching.
Divorces will continue to be granted all too frequently by Courts throughout America.  While there are many unhealthy relationships and marriages that should be ended, the sad reality is that unless some major changes take place in our culture and in society, nearly half of all marriages are going to continue to fail…and as a result nearly half of all families will be torn apart. At Holzfaster, Cecil, McKnight & Mues, we are committed to probing to determine if there is a viable option to save a marriage with potential divorce clients. We believe that referring individuals to organizations such as Marriage Works! Ohio, private counselors and therapists who can help them work on saving their marriage, should generally be the first step before considering other legal options.
If you are interested in more information about Marriage Works! Ohio, click here to connect to their website.
© 2011, Ohio Family Law Blog. All rights reserved. This feed is for personal, non-commercial use only. The use of this feed on other websites breaches copyright. If this content is not in your news reader, it makes the page you are viewing an infringement of the copyright.
About The Author: John C. Meehling
Attorney John C. Meehling is a Family Law Attorney from Dayton, Ohio, and contributor to the Ohio Family Law Blog. Attorney Meehling recently joined the Dayton law firm of Holzfaster, Cecil, McKnight & Mues on November. 1, 2010.
Marriage Works! Ohio – Perhaps It's Just What You Need!