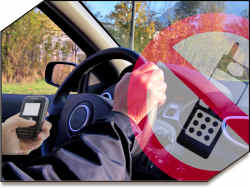 Driving these days can be very challenging. In addition, technological advances provide their own distractions, leaving drivers trying to split their attention between the road and the gadgets. Many experts believe that driving while texting, or "intextication", is worse than driving drunk. In fact, studies show that 97.5% of people cannot drive safely while using cell phones. The National Highway Traffic Safety Administration (NHTSA) statistics show that roughly 16 people are killed every day in auto accidents involving a distracted driver, with over 1,300 more injured. In 2008, almost 6,000 people were killed and a half million more were injured by distracted drivers. It was a surprise to me to read a study this month that showed the American teenagers on average send 115 text messages per day. It is no wonder that authorities claim that the significant increases in texting volumes have resulted in thousands of additional road fatalities in the United States!
Thirty (30) states, including D.C. and Guam, ban text messaging while driving. Within the next few years, more and more states will enact laws banning "texting" when driving. While many cities in Ohio (including Cincinnati, Columbus and Toledo) have banned texting while driving, the State has yet to do so. The Ohio Legislature is considering at least two bills targeting distracted drivers.  Senate Bill 35 was introduced on February 1, 2011 and would prohibit any use of handheld communications while driving.  House Bill 99 was introduced on February 15, 2011, and is a ban on texting while driving.  While there is much controversy about the scope of exactly what cell phone use should be prohibited, it is probable that Ohio will join the list of States banning 'intextication" in 2011. We will keep you posted on developments.
Clearly, there are many ways a driver can be distracted – talking to passengers, changing the radio station, grooming, using a cell phone, eating – text messaging is particularly dangerous as it involves all three types of distraction. To prevent yourself from becoming a statistic in this unfortunate trend, you should strongly consider eliminating cell phone use while driving. At the very least, utilize a "hands-free" cell phone device and quit texting while driving all together! In our personal injury practice, we have unfortunately seen many serious injuries and deaths caused by distracted drivers choosing cell phone communication over safe and careful driving.
© 2011, Ohio Family Law Blog. All rights reserved. This feed is for personal, non-commercial use only. The use of this feed on other websites breaches copyright. If this content is not in your news reader, it makes the page you are viewing an infringement of the copyright.

About The Author: Robert L. Mues
Robert Mues is the managing partner of Dayton, Ohio, law firm, Holzfaster, Cecil, McKnight & Mues, and has received the highest rating from the Martindale-Hubbell Peer Review for Ethical Standards and Legal Ability. Mr. Mues is also a founding member of the "International Academy of Attorneys for Divorce over 50" blog.
"Intextication"…The Dangers of Texting and Driving!