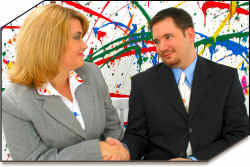 This represents the third collaboration between Psychotherapist Donna F. Ferber, LPC, LADC, and myself. We both had remarked to the other about the important role that the therapist and attorney play in a divorce proceeding. Donna suggested that we both write about our perceptions on that subject. Instead of each of us writing about the merits of our own profession, we switched roles. I wrote about the importance of therapy during a divorce and Donna addressed considerations for picking a good divorce attorney. We hope this perspective provides the reader with additional information and insight regarding the need for professional support during this challenging and life-changing experience. Be sure to spend time exploring the excellent articles she has written. Her insights are terrific!  Donna, as in the past, the collaboration was a lot of fun!
Here is her article:
Most women take more time picking out a winter coat than a divorce attorney. You wouldn't think to buy the first coat you try on and yet many hire the first lawyer they meet with!  Given that divorce costs are more in line with a new car than a winter coat, it is in your best interest to make sure the lawyer you pick to represent you is the one that will best serve your needs.
If you have decided to move forward with a divorce, the single most important aspect of the entire process is picking the right lawyer (this assumes you already have a therapist!). You may think that because you don't have children or huge assets or because the decision is mutual that a good lawyer isn't necessary, well, think again. Divorce is an emotional process that varies in intensity from couple to couple, but it is also the dissolution of a legal agreement. Without the right legal counsel you may find that you are dealing with legal and emotional entanglements for years to come.
Some women tell me that they don't want to hire a "good" lawyer because it will only make their husbands angrier. Others say they need to hire a real tough SOB to fight because their husbands are so difficult to deal with. This attitude is problematic because these women are picking lawyers based on their spouse's personality and not on their own needs! Ironically, so many women tell me they are tired of thinking of their spouse first-tending to HIS needs and wants and ignoring their own desire and instincts. But here they go again-doing the same thing! It is imperative  that you pick a lawyer based on your own needs and personality, because if you hire a "nice" lawyer you may find you lack adequate representation and if you pick that SOB, you may find that aggressiveness is part of the lawyer's personality and results in your feeling intimidated and unsupported.
Unfortunately some of my clients need to spend a good deal of time in their sessions talking about how to deal with their attorneys! By choosing the wrong lawyer to represent them, they suddenly are in the predicament of feeling they have two adversaries instead of one!
Here are ten things I learned from my clients to keep in mind when picking the best attorney for you:
Just because your friend had a good experience with an attorney doesn't mean they are the right one for you. Trust your gut.
Pick a specialist.  While they may be more expensive per hour, they have more experience and in the long run will be both cost and time effective.
Aggression doesn't insure a "win."  An overly aggressive attorney may fan the flames of conflict rather than move toward resolution.
Pick an attorney who understands this isn't about "winning."  She/He should understand divorce is about a major change in the family and that more than the "bottom line" will be affected. A good family attorney is willing, when necessary to work with your therapist. He/she is focused on the family's post divorce situation and understands the interconnectedness of the family does not end with the dissolution of the marriage. In short, they can see the "big picture."
A consultation is like a first date, what you see is probably what you get. Don't pick someone who minimizes your concerns, is sarcastic or dismissive. Don't ignore your own radar by dismissing his/her behavior in favor of excellent credentials.
Don't use your attorney as a therapist. And don't use your therapy time to talk about legal issues. Efficient utilization of your professionals will keep costs down, provide you with better information and effective support.
Don't withhold information from your attorney because you are embarrassed. They aren't there to judge you, but if you don't give them the information they need, you cut down on their ability to effectively represent you. Don't assume drinking, abuse or affairs are not relevant even if you live in a "no fault" state. Underreporting or minimizing can result in your not getting the best settlement. ALWAYS tell your attorney if there are weapons in your home.
Try to stick with the facts. The emotions get processed with your therapist.
Talk frankly about costs up front and what you will be charged for. Some women are shocked when they are billed for phone calls, e-mails, etc., as they have come to rely so strongly on their lawyer that they mistake this working relationship for friendship.
Finally, be clear the court is not going to reward you for pain and suffering. Settlements aren't based on how betrayed or rejected you feel.  Keeping an objective attitude regarding the legal system can play a big part in keeping your expectations realistic.
My reciprocal article, "A Good Divorce Therapist is Critical to Your Emotional Health!", appeared on my blog on January 30, 2011. Click here to access it.

©2011. Donna F. Ferber, LPC, LADC, is a licensed psychotherapist in Connecticut. Her newest book is available at bookstores everywhere, Amazon.com or at her website. Her first book, From Ex-Wife to Exceptional Life: A Woman's Journey through Divorce, won an Honorable Mention Award by the Independent Publishers Association. To read more about the author and her work, please visit www.donnaferber.com.
© 2011, Ohio Family Law Blog. All rights reserved. This feed is for personal, non-commercial use only. The use of this feed on other websites breaches copyright. If this content is not in your news reader, it makes the page you are viewing an infringement of the copyright.

About The Author: Robert L. Mues
Robert Mues is the managing partner of Dayton, Ohio, law firm, Holzfaster, Cecil, McKnight & Mues, and has received the highest rating from the Martindale-Hubbell Peer Review for Ethical Standards and Legal Ability. Mr. Mues is also a founding member of the "International Academy of Attorneys for Divorce over 50" blog. Mr. Mues has also been a dog owner for 55+ years, and just recently, he and his wife are the owners of "Ralph", a rescued mixed Wire Hair and Jack Russell Terrier.
The Lawyer You Choose May be More Important Than You Think…