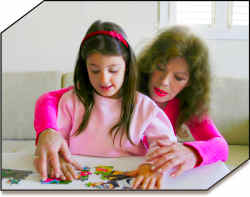 Research published last month in Child Trends reported that happy marriages generally result in happy children. I was asked by a reader if children with any type of physical, emotional or developmental problems cause unhappy marriages.
Research has focused on parents raising children with such problems as Attention Deficit Disorder, Autism Spectrum Disorder and similar types of disabilities. The research findings have been ambiguous, with some studies finding a higher rate of divorce among such parents, and with others documenting no real differences. However, it's clear that raising a special-needs child can result in a severe strain on a marriage. Here's how successful marriages navigate these problems.
Put your marriage first. A child with any type of disability demands more time and attention than other children. Good parents naturally want to meet those special needs, but that may result in neglecting your spouse. Healthy relationships take time and work, so it takes an extra effort by both spouses to be attentive to the needs of their marriage partner.
Create a "no talk about children" zone. I recently learned about this technique from one of my clients. She found that virtually every conversation with her spouse revolved around some issue with the kids. They established a routine time every week when they are alone and prohibited themselves from talking about the children. This structure has provided both parents with the opportunity to stay connected with each other as people, not just as parents. I like this idea a lot.
Maintain your own hobbies and interests. Do something on a routine basis just for you. This makes you a better spouse and a better parent.
Talk with your spouse. While communication is a key attribute in all healthy marriages, it is essential if your child has any type of special problems. These youngsters typically have many issues involving their academic progress, medical or psychological therapies, or just increased challenges getting through the day. Dealing with these problems should not fall on one parent, typically a mom, to negotiate and resolve. Parenting is a team endeavor.
Don't let your child's behavior control your happiness. Many years ago I was a teacher in a classroom of severely disturbed and delayed children. I became close to several of the parents, and asked them how they maintained such a positive and cheerful disposition in spite of their children's severe problems. They remarked that while their children were extremely important, they refused to allow their kids' behavior to determine their happiness. They always tried to focus on positive things in their lives.
By the way, what group of parents are least likely to divorce? Couples who marry when they are older than 25, come from an intact family, have a religious affiliation, make more than $50,000 a year, wait until after marriage to have a baby and have attended college have the lowest divorce rate.

Gregory Ramey, Ph.D., is a child psychologist and vice president for outpatient services at the Children's Medical Center of Dayton. For more of his columns, visit www.childrensdayton.org/ramey and join Dr. Ramey on facebook at www.facebook.com/drgregramey.
[Reprinted by permission from the May 8, 2011, edition of the Dayton Daily News, "Do Challenging Children Cause a Bad Marriage?" Family Wise, Gregory Ramey, PhD]
© 2011, Ohio Family Law Blog. All rights reserved. This feed is for personal, non-commercial use only. The use of this feed on other websites breaches copyright. If this content is not in your news reader, it makes the page you are viewing an infringement of the copyright.

About The Author: Guest Contributor Gregory Ramey, PhD, Child Psychologist and Dayton Daily News Columnist
Gregory Ramey, PhD, is a nationally recognized child psychologist and columnist who has worked at Dayton Children's Hospital since 1979. In addition to his weekly column in the Dayton Daily News about effective parenting, Ramey has conducted more than 200 workshops and has recently been quoted in articles in Redbook, Parenting, Ladies Home Journal as well as columns distributed by the New York Times Wire Service.
Do Challenging Children Cause a Bad Marriage?