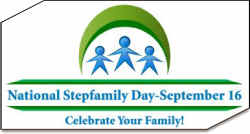 There's a good chance that you yourself are part of a stepfamily.  If you're not, you almost certainly have close friends or family members who are.  Statistics show that one in three Americans live in a stepfamily and that more than 50% of Americans will live in a stepfamily at some point in their lives.  A term that is now commonly used to describe a family that forms after divorce or re-marriage is a "blended" family.
With so many Americans being a part of a "blended" family these days, it should come as no surprise that there is actually a day to celebrate being in a stepfamily…National Stepfamily Day!  September 16 is the day that has been designated as the day to honor all the "Step Heroes" out there who choose every day to be parents to ALL the children in their lives.
In 1997, Christy Brogeld, who herself was a remarried mother and member of a blended family, decided that it was time to begin a campaign to bring stepfamily support and awareness to the nation's attention.  That year she got 24 states to officially make the following proclamation:
"Whereas, National Stepfamily Day is enhanced by our strong commitment to support the stepfamilies of our nation in their mission to raise their children, create strong family structures to support the individual members of the family, instill in them a sense of responsibility to all extended family members.
Whereas, Approximately half of all Americans are currently involved in some form of stepfamily relationship and it is the vision of the national Stepfamily Day Foundation that all stepfamilies in the United States be accepted, supported and successful.
Whereas, Our nation has been blessed by thousands upon thousands of loving stepparents and stepchildren who are daily reminders of the joy, trials, and triumphs of the stepfamily experience and of the boundless love contained in the bond between all types of parents and children.
Whereas, National Stepfamily Day is a day to celebrate the many invaluable contributions stepfamilies have made to enriching the lives and life experience of the children and parents of America and to strengthening the fabric of American families and society."
The next year, in 1998, Mrs. Brogeld asked President Clinton to revise the language on the Presidential Mother's Day and Father's Day Proclamations to include all parents, biological, adopted, foster, and step.  He honored her request as did President Bush and President Obama after him.  Today, National Stepfamily Day is celebrated in all 50 states, Canada, and the United Kingdom.
If you haven't heard of National Stepfamily Day, you might wonder how it is celebrated.  The most common "official" way to celebrate is through organized picnics in over 800 cities across our nation.  At the picnics, there are often activities planned for the different age groups of children, as well as activities that allow families to bond in a fun way as a unit.
Other ways to celebrate National Stepfamily Day is for the blended family to just spend the day together bonding.  Families can do anything from going bowling to camping to spending the day together without any electronic devices for the entire day!  Here is a good video with 101 ideas to consider:
httpvh://www.youtube.com/watch?v=EoK20HcVD2A
If you are in a stepfamily, congratulations, and good luck at making your family gel!  You will appreciate that stepfamilies don't always blend…that sometimes they collide!  The challenge of that reality has led different organizations to create websites designed to help those in blended families succeed.  Check these links out!
Valuable Links for Stepfamilies:
www.NationalStepfamilydayFoundation.org – Info from Christy Borgeld, founder of National Stepfamily Day.  This site celebrates blended families or stepfamilies.
www.stepfamily.org – A website by stepfamily pioneer and author, Jeanette Lofas, C.S.W., for blended, remarried or couples who are living together.  The Foundation provides stepfamily support materials by mail and professional counseling by phone.
www.WinningStepFamilies.com – This website offers help to get you through the rough times and the long-term support you need to successfully blend your family.
www.stepfamilies.info – This organization's primary objective is to serve as a clearinghouse of information, resources, and support for stepfamily members and the professionals who work with them.  The site also provides user-friendly and research-based information on stepfamily living.
© 2011, Ohio Family Law Blog. All rights reserved. This feed is for personal, non-commercial use only. The use of this feed on other websites breaches copyright. If this content is not in your news reader, it makes the page you are viewing an infringement of the copyright.
About The Author: John C. Meehling
Attorney John C. Meehling is a Family Law Attorney from Dayton, Ohio, and contributor to the Ohio Family Law Blog. Attorney Meehling recently joined the Dayton law firm of Holzfaster, Cecil, McKnight & Mues on November. 1, 2010.
Did You Know that National Stepfamily Day is September 16th?