Tips on how technology can be used as a tool for parents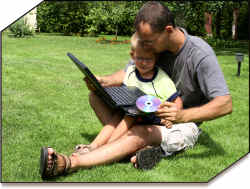 Five-year-old Landon loves for his Aunt Michelle to read him bedtime stories. He snuggles in his bed with his special blanket and an extra pillow and gets all comfortable while he follows along with his favorite book. This bedtime routine occurs every few weeks, even though his aunt lives hundreds of miles away. Landon and his aunt are connected by a video conference call with a camera easily installed on any computer. He watches and listens to his aunt on a laptop computer as she reads to him.
Staying connected with family has always been extremely important to Michelle, a young professional with a busy travel schedule. When her nephew was a few years old, she purchased web cameras for family members at Christmas. Using a free video conference service (Skype.com) she began having regular contact with her nephew. He wasn't very good at speaking on the phone, but he loved to show off his latest projects from preschool. "Technology is not a replacement for me," said Michelle, "but it has allowed me to stay connected and be an active part of his life even though I am not physically there."
Technology has historically been both romanticized as a deity and criticized as a demon. When the automobile became popular, there were serious concerns about pollution and safety. While we can't imagine life without our cars, this technology comes at a high cost. There are more than 1 million car-related deaths worldwide every year and 20 to 50 million injuries. The automobile remains a major source of worldwide pollution.
Few people are willing to give up their smartphones, computers or cars, so the question becomes how to use technology to enhance our family life. Here's what I'm learning from families in my office:
Power down at mealtimes. This means no television, computers or texting. This is the time to really connect with each other without the technological distractions that can be so overwhelming throughout the day.
No computers in kids' bedrooms until at least high school. Please trust me on this one. The risks just aren't worth it. Keep computers in public areas of your house, and regularly monitor their usage.
Limit or eliminate television viewing on school nights. You'll be amazed at the impact this will have on your family. Kids play games, become creative, and interact with us and their siblings.
No social media networks until at least high school, and supervise their use. Many kids just don't have the impulse control to adequately control this technology, and the effects on them and others can be substantial.
Supervise cellphone use, including texting. You need to be guided by the maturity of your child, but irresponsible behavior should result in increased supervision.
Learn about technology. Don't be afraid of texting, video-conferencing, iPads, or Facebook. They are fun and great ways to stay connected with your kids.

Gregory Ramey, Ph.D., is a child psychologist and vice president for outpatient services at the Children's Medical Center of Dayton. For more of his columns, visit www.childrensdayton.org/ramey and join Dr. Ramey on facebook at www.facebook.com/drgregramey.
[Reprinted by permission from the October 16, 2011, edition of the Dayton Daily News, "Parents should
© 2011 – 2012, Ohio Family Law Blog. All rights reserved. This feed is for personal, non-commercial use only. The use of this feed on other websites breaches copyright. If this content is not in your news reader, it makes the page you are viewing an infringement of the copyright.

About The Author: Guest Contributor Gregory Ramey, PhD, Child Psychologist and Dayton Daily News Columnist
Gregory Ramey, PhD, is a nationally recognized child psychologist and columnist who has worked at Dayton Children's Hospital since 1979. In addition to his weekly column in the Dayton Daily News about effective parenting, Ramey has conducted more than 200 workshops and has recently been quoted in articles in Redbook, Parenting, Ladies Home Journal as well as columns distributed by the New York Times Wire Service.
Parenting Advice: Staying Connected with Kids, Skype and Technology…