Parenting Time Suspension can occur when a parent's bad behavior gets in the way of the child's best interest.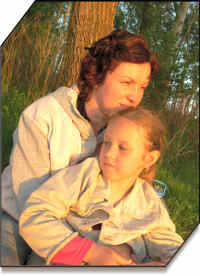 "Children must be considered in a divorce, considered valuable pawns in the nasty legal and financial contest that is about to ensue." – P.J. O'Rourke
The truthfulness of O'Rourke's statement cannot be more evident. Children going through a divorce are often caught in the middle of two parents at war. They can be fighting about money, parenting time, adultery committed, or even about why the toilet seat was once again left up. Although this fighting in and of itself can be a traumatic time for a child caught in the middle, the worst of the fighting results when a parent uses his or her children to hurt the other parent.
In a case in Montgomery County, Ohio, recently affirmed by the Second District Court of Appeals, the Court decided that it was time to show parents that bad behavior can result in a suspension of parenting time.
Thomas Gisslen had his parenting time suspended when the Courts determined his behavior resulted in a traumatic experience for his children. Mr. Gisslen became involved with the Courts in 2007 when he filed for a Legal Separation. His wife answered with a counterclaim for Divorce. The hearing was not officially heard until September 14, 2010, due to several motions being filed either requesting continuances or going as far as attempting to disqualify the Judge and Wife's attorney. Although Gisslen's behavior was outrageous regarding the amount of time it took to actually hear the case, Gisslen's behavior was even more concerning with regard to the way he handled parenting time with his children. During his parenting time, Gisslen followed a procedure that he referred to as the "safety check". When it was time to exchange the children for the scheduled parenting time, Gisslen would either videotape or record the exchange, and out of the many exchanges that occurred he requested police presence at approximately fifty (50) of the exchanges. Once, after his parenting time, he refused to return the children and the Hamilton County law enforcement had to intervene. If these experiences were not dramatic or traumatic enough, Gisslen went even further. He started taking pictures, during his parenting time, of the children naked to examine the photographs for any signs of abuse. Gisslen had made several allegations of abuse to the Children's Services Department in Hamilton and Montgomery County; however, no proof of any abuse was ever found. Gisslen recorded every single conversation he had with his children and his now ex-wife and he went to the children's school and attempted to delay the younger child's enrollment in kindergarten. There was evidence in the court record indicating that the children were scared of Mr. Gisslen and did not feel safe with him. At the time of the final hearing, Mr. Gisslen refused to participate and as he left the courtroom he stated ,"Have a nice hearing. See you." The Court then awarded custody to the mother and suspended Gisslen's parenting time.
While many may be applauding the court's exertion of their power in this case, others question a court's ability to make decisions resulting in a suspension of a parent's ability to exercise parenting time. Ohio law gives the court broad powers related to how it can decide whether or not a parent should have parenting time. It is located in the Ohio Revised Code, Section 3109.051(D). The ultimate determining factor concerns what is in the best interest of the child. In making this determination courts consider the following factors:
The child's relationship with parents, siblings, and others involved
Where the parents reside and the distance between those locations
The child's and parent's available time
The age of the child
The child's adjustment to home, school, and community
The child's wishes and concerns
The health and safety of the child
The amount of time available for the child to spend time with siblings
The mental and physical health of all parties involved
A parent's willingness to participate in parenting time
Criminal offenses of the child's parents or others involved and whether or not the child has been found to be an abused or neglected child or if the parents have been previously determined to be a perpetrator of an abusive or neglectful act
If a person is not a parent, that individual's criminal record and whether or not that person has been found to be a perpetrator of an abusive or neglectful act
Whether a parent has denied the other parent parenting time with the children
Whether a residence has been established outside the State of Ohio or if a parent is planning on establishing a residence outside the State of Ohio
Wishes and concerns of the child's parent regarding requests for parenting time by those who are not the child's parent
Any other factor in the best interest of the child
The way in which you act during a divorce proceeding can weigh very much in your favor or against you. It is exceedingly important that although you may be suffering internally and want to be vindictive and spiteful, if you have children, you must think of what is best for them. If you feel your spouse is abusive, rather than take naked pictures of your children (which can result in mental anguish for your children and can be seen as abusive), request that a court appoint a guardian ad litem for your children to investigate these allegations. While one should keep in mind the factors the court looks to in determining parenting time, they should also remember that it is ultimately what is in the best interest of the child; and if your behavior is not conducive to what is in the best interest of your child, you can be sure the court will make note of that when determining parenting time.
If you are interested in reading the actual appellate court decision, click on Gisslen v. Gisslen.
If you are interested in learning more about Parenting Time schedules in Montgomery County, Ohio, please click on Parenting Time.
© 2012, Ohio Family Law Blog. All rights reserved. This feed is for personal, non-commercial use only. The use of this feed on other websites breaches copyright. If this content is not in your news reader, it makes the page you are viewing an infringement of the copyright.
About The Author: Jessica M. Shively

Parenting Time Suspension for Bad Behavior