Should We Participate in a Divorce Celebration?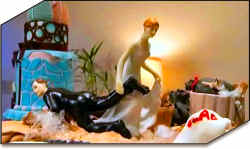 The word "celebration" is derived from the verb "celebrate" which is defined as "to commemorate an anniversary, holiday, etc., with festivity". If you think of a birthday celebration, you think of gifts, a party, and a birthday cake! If you think about a wedding, you think about the ceremony, the reception that follows, and a wedding cake! If you think about someone's graduation or retirement, there is the assumption of a party with a cake to be included with the celebration. But, do you think about a divorce celebration? Some persons do; and some bakeries are happy to oblige by providing divorce cakes.
There is a bakery in Broward County, Florida, that has been making divorce celebration cakes for approximately three years. The owner works carefully with her customers to create a cake that symbolizes the "happiness" or "celebration" in being "set free" or in celebrating a new beginning for a new stage in life. She advises that she sells approximately three divorce cakes per month. I shall describe three of the divorce celebration cakes that have been made at the Florida bakery:
A cake with the topping of a wedding ring placed in a small coffin signifying the end or demise of the marriage.
A sign on a cake reflects "Taking Out The Garbage"—There is a bride figure dragging her groom out of the house by his foot and presumably taking him to the garbage container.
On the top of a cake, there is a small bag of golf clubs with a sign reflecting: "Let's Play Golf – I'm Free"!
To view a video about the Florida bakery selling divorce cakes, please click on divorce celebration or watch below.
Divorce Celebration Cakes in Dayton, Ohio
Recently, I called several bakeries in Dayton, Ohio, to see if any had ever been asked to prepare a divorce cake. These are my unscientific findings: (1) the spokeswoman for The Cakery said that she was aware of two divorce cakes being made in recent years, but she was not able to describe either of them to me; (2) the spokesperson for Ele Cake stated that they had never been asked to prepare a divorce cake; (3) the spokesperson for Cake Shop & Treats stated that she could just recall one divorce cake being made in recent years; and (4) Theresa Hammons, the owner of Ashley's Pastry Shop in Oakwood, Ohio, advised me that she creates approximately six divorce cakes a year. She has a loyal clientele and has not determined how to market such cakes as she does not want to offend any of her clients. While one client may be celebrating a divorce, his/her spouse may be going through a period of sadness and/or depression. She described a recent divorce cake that she prepared as having a cupid on the top dressed as a devil complete with horns and a note saying, "When Love Goes Wrong"!
Over the Christmas holiday, I had the opportunity to spend some special time with my three grandchildren. I told them of this writing project and asked them what they thought of a divorce celebration. They are ages 16, 14, and 11. They responded in unison….you celebrate birthdays and you celebrate weddings and you celebrate retirements or graduations; but, you do not celebrate divorces. They are children of divorce and I respect their opinions. I asked them why they felt this way…….all of them responded that the divorce of their parents had made them sad and sometimes angry. None of them felt there was happiness or a cause to celebrate with the divorce.
Obviously, the persons willing and eager to buy divorce cakes feel differently. They do want to celebrate the end of a "bad" or "harmful" relationship. They also want to celebrate the beginning of a new chapter of their lives. While they may be eager to purchase a divorce cake for a celebration of a new life, there are many other persons who mourn the demise of their marriage and feel a great loss and/or sadness. Whether to celebrate or to mourn and grieve is a personal and individual decision based upon the facts and circumstances of each divorce or dissolution.
My partner, Chip Mues, who publishes the Ohio Family Law Blog , wrote a humorous tongue-in-cheek blog article on August 28, 2008, titled Gifts for the Newly Divorced! Some Tasteful and Well…Others Not So Much! Please click here to read it!
The Dayton divorce attorneys at Holzfaster, Cecil, McKnight & Mues are committed to working with each client to make the divorce process as comfortable as possible. If you choose to participate in a divorce celebration, we'll be joyful with you! And, if you are feeling sad and blue, we'll be mindful and supportive of your position!
© 2012, Ohio Family Law Blog. All rights reserved. This feed is for personal, non-commercial use only. The use of this feed on other websites breaches copyright. If this content is not in your news reader, it makes the page you are viewing an infringement of the copyright.

About The Author: Anne Shale
Anne Shale is of counsel to Dayton, Ohio, law firm, Holzfaster, Cecil, McKnight & Mues. She is a former registered nurse and concentrates her practice in Family Law and Divorce cases.
Divorce Celebration: Complete with Cake!