New Study: Fatherhood Leads to Drop in Male Testosterone Levels!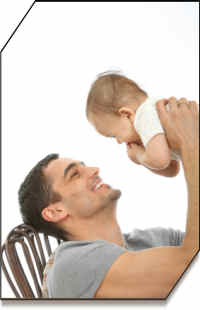 On September 12, 2011, the New York Times published an article regarding a recent study of six hundred (600) men in the Cebu Province of the Philippine Islands. The research study measured the testosterone levels of men when they were age twenty-one (21), single and without children, and again five years later after some had entered fatherhood. Fatherhood resulted in a great decline in testosterone levels when compared to the men who remained childless.
What is testosterone? Testosterone, called the "Father of All Hormones", serves many purposes in the male body. The hormone is responsible for the following:
the growth and development of male sexual characteristics;
the deepening of the male voice during puberty;
the growth of facial and body hair;
the male sexual drive, i.e. "libido";
the production of sperm;
the maintenance of muscle mass and strength; and
the ability to experience sexual relations.
What did researchers conclude when they determined that Fatherhood resulted in a drop in testosterone levels?
They agree that the testosterone levels decrease with fatherhood, as the Father becomes more involved with child rearing.  Men who spent more than three hours a day caring for children — playing, feeding, bathing, toileting, reading or dressing them — had the lowest testosterone levels. This is a positive outcome for young and emerging families. They also believe that the decline in testosterone levels promotes more involvement with the instant family and leads to less likelihood that the Father would seek new sexual conquests outside of the marriage.
As a Mother of an adult son who is an excellent Father of three (3) children, I would like to know what his testosterone level was before marriage (1992) and what his testosterone level was after entering fatherhood. He has always been a "hands on" Father, as he cared for the children when Mother worked outside the home as a registered nurse.
The study did not examine specific effects on behavior of men who entered fatherhood, including whether those with smaller drops in testosterone were more likely to be neglectful or aggressive. It also did not examine the roles played by other hormones or whether factors like stress or sleeplessness contributed to a decline in testosterone, rather than Fatherhood being the only cause of a testosterone drop.
While men may not like to see their testosterone levels drop with fatherhood, it may be a change to promote positive family health. So it appears that women aren't the only ones biologically programmed to take care of children! Interestingly, it turns out that men are also "hardwired" to be fathers!
© 2012, Ohio Family Law Blog. All rights reserved. This feed is for personal, non-commercial use only. The use of this feed on other websites breaches copyright. If this content is not in your news reader, it makes the page you are viewing an infringement of the copyright.

About The Author: Anne Shale
Anne Shale is of counsel to Dayton, Ohio, law firm, Holzfaster, Cecil, McKnight & Mues. She is a former registered nurse and concentrates her practice in Family Law and Divorce cases.
Fatherhood Leads to Drop in Male Testosterone Levels