Tips to help your children prepare for the challenges of a new school year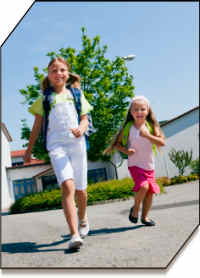 The lazy, hazy days of summer are coming to an end, as a new school year is quickly approaching. My wife, a school teacher of 30 plus years, suggested that we post an article about this topic of starting the school year well.  So with her help, here it is.
Although they may protest, most children like the routine that school brings, and they are ready to get back into the swing of the school year. The new school year is exciting because students get the opportunity to have a fresh start. However it can also be a time of anxiousness when kids worry about things such as will I like my new teacher or will my friends be in my class? It can also be nerve racking for those who are going from elementary to middle school, or middle school to high school, or for those who are moving to a new school district.
Establish school year traditions and celebrations
As adults we have memories of getting ready for a new school year, whether it was picking out new school supplies, or finding that perfect lunch box with the cool characters on it. As your child gets ready for school to begin, try to establish some traditions that they can look forward to. For example, when our boys were off on their first day of school each year, we would always take a picture of them as they set off with their backpacks. Have a special family dinner the night before school, and let the kids select the menu, or plan a sundae back-to-school party and let your children invite several classmates to celebrate new beginnings.
On a more serious note there are many things that we as parents can do to help our children be ready for the start of the new school year. Obviously, number one would be to make sure they are getting enough sleep. Gradually adjust the time that your child goes to bed each night so that once school starts they are getting enough sleep to be ready for their day. Find a way to volunteer at your child's school. If your job is one that does not allow for you to do so during school hours, talk to your child's teacher. Perhaps you could lend your talents by sewing costumes for a play, organizing a school clean-up day, or helping to plan fundraising events.
There have been many articles written about what parents can do to help their children prepare for the challenges of the new school year. Dr. Greg Ramey, a frequent contributor to the Ohio Family Law Blog, wrote an excellent article on this topic awhile back. He said, "Grades matter, but they do not reflect your value as a person or the contribution you will make to society. Focus on helping your child develop a good work ethic, high moral standards, trusting relationships and a positive attitude. With those attributes, your child will live a meaningful life even if he doesn't get outstanding grades in school." Please click here to read Dr. Ramey's article on school, "7 Things Parents Can Do to Help Their Kids Succeed This School Year."
As you shoo your children out the door, remind them of the advice Dr. Seuss gives in his book, Oh, The Places You'll Go. "Congratulations! Today is your day. You're off to Great Places! You're off and away! You have brains in your head. You have feet in your shoes. You can steer yourself any direction you choose."
© 2012, Ohio Family Law Blog. All rights reserved. This feed is for personal, non-commercial use only. The use of this feed on other websites breaches copyright. If this content is not in your news reader, it makes the page you are viewing an infringement of the copyright.

About The Author: Robert L. Mues
Robert Mues is the managing partner of Dayton, Ohio, law firm, Holzfaster, Cecil, McKnight & Mues, and has received the highest rating from the Martindale-Hubbell Peer Review for Ethical Standards and Legal Ability. Mr. Mues is also a founding member of the "International Academy of Attorneys for Divorce over 50" blog.
School Resumes, How To Start The School Year Off Well!