Learning More About the Children Services Division
of the Department of Job And Family Services of Montgomery County, Ohio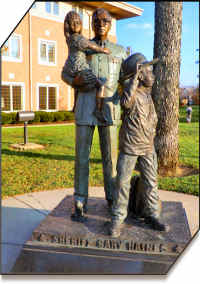 On Thursday, October 18, 2012, I had the opportunity to visit the Haines Children's Center located at 3304 North Main Street, Dayton, Ohio, to meet with Ann Stevens, Public Information Coordinator of the Montgomery County Department of Job and Family Services, and Geraldine Pegues, Assistant Director of the Children Services Division. My mission was to learn more about the agency and the services it provides to the community so that I could complete a Family Blog Article for publication on the Ohio Family Law Blog.
The Haines Children's Center, completed in 2001 and named in honor and memory of now-deceased Sheriff Gary Haines, is located on the grounds of the former Shawen Acres, the site of ten (10) cottages which was one of the first children's homes in Ohio. The cottages, built in 1926/1927, are now being razed with plans to have some green space and park services available for the North Main Street Community. Ms. Stevens was quick to point out to me that the slate tiles from the cottages are being salvaged and saved to be used for the roofs of shelters planned to be built in the community in the future. The doors of Shawen Acres closed as a children services home on February 26, 1977.
In 2006, the former Children Services Board ("CSB") merged with the Montgomery County Department of Job and Family Services. The Children Services Division "ensures that children alleged to be dependent, abused, or neglected are protected from harm or danger. The division also provides foster care and adoptive placement for children placed in to care."
What services were provided by the Children Services Division in 2011?
In 2011, the Children Services Division dealt with or managed 4600 cases involving 6000 families and 15,000 children. And, in 2011, the agency responded to 12,300 calls which averages 33-34 telephone calls per day.
Persons who call Children Services Division to report incidents of dependency, abuse, or neglect are shielded by "confidentiality" and their names are not provided to the alleged perpetrator of abuse. Certain professionals are required to report allegations of abuse….those persons include physicians, nurses, teachers, and school nurses, who have the ability to observe the physical appearance and demeanor of young children.
Who are the employees of Children Services Division?
Most are social workers and some are clerical workers. The Children Services Agency works closely with the Montgomery County Prosecutors Office, the entity that represents the Agency in Court, and office space is available at the Haines Children's Center for County Prosecutors to meet with clients and to conduct their business.
I mentioned to Ms. Stevens and Ms. Pegues that I have had clients who were fearful of calling Children Services as they were afraid the "affected" child or children would be taken away from family members and placed with "unknown" foster parents. I was assured that the agency would first try to find appropriate placement with family members. But, if there were no appropriate family members available, the child or children would be placed into foster care for their safety and protection.
Children Services Can Help Decrease Child Abuse
Before the end of the interview, I asked both persons . . . . . what can we do or what would you recommend that could be done to result in a decrease in child abuse cases? Both persons suggested and proposed that all of us have to be more diligent and observant of children in our own neighborhoods. If there are children next door to you….do you see them? Do you observe them playing and interacting with one another? Do they appear happy and healthy?  Do you see healthy behavior and interaction between parents and children?  If you have concerns about the safety and well-being of any children, please call (937) 224-5437.
Our children are vulnerable … we have to protect them from harm and abuse!
To learn more about the agency, please click the link below.
Children Services – Children Services Division of the Department of Job And Family Services of Montgomery County, Ohio.
© 2012, Ohio Family Law Blog. All rights reserved. This feed is for personal, non-commercial use only. The use of this feed on other websites breaches copyright. If this content is not in your news reader, it makes the page you are viewing an infringement of the copyright.

About The Author: Anne Shale
Anne Shale is of counsel to Dayton, Ohio, law firm, Holzfaster, Cecil, McKnight & Mues. She is a former registered nurse and concentrates her practice in Family Law and Divorce cases.
Children Services In Dayton, Ohio: Haines Children's Center