Requirements Can Be Different In Each State For Obtaining A Marriage License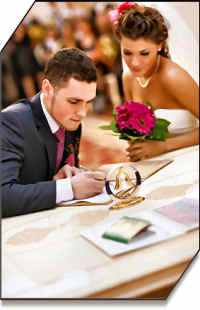 As I have done in the past, I am utilizing the experience of a family member, my son, as the basis for this family law blog article. He and Renae have been engaged for less than a year and they decided that they would like to "tie the knot" on New Year's Eve 2012. Unfortunately, they had not looked into the marriage laws of Illinois (where they live) or of Ohio (where both used to live and where their families live) to determine the requirements for obtaining a marriage license.
On December 31, 2012, my son went to the Probate Court of Boone County, Illinois to obtain a marriage license. The Court was not open due to their holiday schedule so obtaining a license that day was impossible. Even if the Court had been open, the State of Illinois has a one (1) day waiting period between obtaining a marriage license and the date the ceremony can be performed. So, even if he had been able to obtain a marriage license that day, the marriage could not have taken place until the following day, January 1, 2013.
Next, the parties thought about being married in Ohio as they were going to spend time here over the week of New Year's Eve. So, we commenced a search regarding obtaining a marriage license in Ohio versus obtaining a marriage license in Illinois.
Some interesting similarities and differences between the marriage requirements of the two states became apparent. They are explained as follows:
Residency Requirements: You do not have to be a resident of either state to obtain a marriage license. You would apply in the county in which you plan to be married.
Blood Tests: No blood tests are required in either state. In prior years, it was necessary to have laboratory tests to confirm that neither party was infected with the sexually transmitted diseases of syphilis or gonorrhea.
Fees: The fees vary from county to county in either state. Most counties require cash.  Some counties will accept money orders. Neither state would accept a personal check for a marriage license. It would be wise to call the appropriate Probate Court to determine the amount of the fee and the accepted method of payment so that you have the required amount of cash or money order.
First Cousin Marriages: Ohio does not permit the marriage of first cousins. In Illinois, first cousins can marry if they are over the age of 50. This provision is based upon the premise that if first cousins have children with one another, there might be certain genetic defects. In Illinois, if both parties are over the age of 50, the woman would be assumed to be infertile at that age.
Same Sex Marriage: The states of Ohio and Illinois do not recognize same-sex marriages.
If Previously Married: The parties must bring to the Probate Court a certified copy of the Final Decree of Divorce or Dissolution or a certified copy of the deceased spouse's death certificate. This requirement is intended to preclude bigamy. Bigamy is defined as "the crime of marrying a second time when one is already legally married to another."
Waiting Period: In Ohio, there is no waiting period between obtaining the marriage license and the marriage ceremony.  In Illinois, there is a waiting period of one day (24 hours) between obtaining the marriage license and the marriage ceremony.
Age Requirements: In Ohio, you must provide a copy of your birth certificate to verify that you are 18 years of age. If you are age 16-17, you must have consent from a parent or guardian.  In Illinois, if you are age 16-17, you must have the sworn consent from each parent or each legal guardian.
Validity of License: The marriage license remains valid for sixty (60) days after its issuance in both Ohio and Illinois.
Actual Outcome: My son and his fiancé were able to be married, but not on the day that they wanted because of faulty planning! If you are contemplating marriage and want to be assured of a certain date for the ceremony, do your homework and investigate the laws of the state wherein you wish to be married.
A Helpful Tip: US Marriage Laws (plug in the state wherein you reside or wherein you wish to be married) has a lot of helpful information to plan ahead!
Conclusion:
In the event you have any questions regarding the marriage laws for the State of Ohio, please call our office at 937-293-2141 for assistance or answers to your questions. Plan way ahead and get your marriage off to a great start!
© 2013, Ohio Family Law Blog. All rights reserved. This feed is for personal, non-commercial use only. The use of this feed on other websites breaches copyright. If this content is not in your news reader, it makes the page you are viewing an infringement of the copyright.

About The Author: Anne Shale
Anne Shale is of counsel to Dayton, Ohio, law firm, Holzfaster, Cecil, McKnight & Mues. She is a former registered nurse and concentrates her practice in Family Law and Divorce cases.
Marriage: Don't Ignore the Legal Requirements Before Getting Married, Plan Ahead!