Four Common Reasons Why A Spouse Will Initiate A Divorce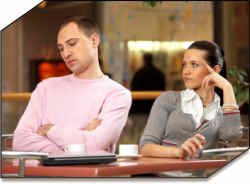 In the arena of family law, also known as domestic relations law, there are occasions when negotiations take place with the hope that a dissolution of marriage might result or a "non-contested" divorce action might ensue.  These negotiations are intended to achieve settlement of disputed issues and to avoid the very costly and emotionally consuming action of a "contested" divorce.  But, while trying to negotiate settlement of certain issues, there are times when it becomes apparent that a divorce proceeding must be filed forthwith.  This article shall address those times when it is imperative to end negotiations and file the Complaint for Divorce.  I shall address common fact-situations that should trigger the filing of a divorce proceeding:
The primary causative reason to file a Complaint for Divorce is when you have a situation with a very financially advantaged spouse (with high income) and a financially disadvantaged spouse (with little to no income).  With these circumstances, it might be necessary to initiate the divorce proceeding in order to get a temporary order of spousal support and/or child support.  If the party with the high income decides to stop paying bills or provide for the spouse and children, the Court has no way of knowing these facts unless a Complaint for Divorce is filed with a request for temporary spousal support and/or child support.
If either party has been physically abusive of the other party….causing one party to be in fear of serious and imminent harm, a Complaint for Divorce with a Petition for Domestic Violence Civil Protection Order might be filed.  This action should be filed only if there is a valid and legitimate fear of physical harm.  This action should not be filed in order to obtain an advantage in a child custody dispute.  But, if there has been actual physical violence perpetrated by one of the parties against the other, a Complaint for Divorce with a Petition for a Civil Protection Order should be filed on behalf of the party suffering the physical violence.  This may result in an Order for temporary custody of the children and temporary support.
There is a perceived need for mediation services from the Court.  Montgomery County has a very successful Mediation Services Department.  However, in order to qualify for services, there must be an active divorce proceeding.  If you feel that the parties might be amenable to mediation services, a Complaint for

Divorce

could be filed in order to utilize the Mediation Services Department.
There is a perceived need to obtain information from the Court.  Again, in order to obtain services from the Court, there must be an active case filed.  One of my present cases involves a question that we want to have the Judge address.  I represent a party who has a law degree but who has never practiced law.  The degree was obtained in a state other than Ohio more than 12 years ago.  I plan to argue that the party has never worked as an attorney and is not even licensed in this state.  We need the input from the Court in order to determine the issue of spousal support.
Discuss Your Divorce Case With A Family Law Attorney When Disputed Family Issues Cannot Be Resolved Through Mediation Or Negotiations
I am an attorney who first endeavors to resolve cases via mediation or settlement negotiations.  I believe the damage that is created by one party testifying negatively against the other party should be avoided if possible especially when young children are involved.  However, if matters cannot be resolved via negotiation or mediation, our attorneys will prepare your case for trial and aggressively litigate it before the Court.
Holzfaster Cecil McKnight & Mues, A Trusted Law Firm In Family Law And Divorce Cases
Our firm has three (3) family law attorneys available to meet with you to discuss the facts of your specific situation.  We will work diligently with you to try to resolve disputed family issues that you are facing.
© 2013, Ohio Family Law Blog. All rights reserved. This feed is for personal, non-commercial use only. The use of this feed on other websites breaches copyright. If this content is not in your news reader, it makes the page you are viewing an infringement of the copyright.

About The Author: Anne Shale
Anne Shale is of counsel to Dayton, Ohio, law firm, Holzfaster, Cecil, McKnight & Mues. She is a former registered nurse and concentrates her practice in Family Law and Divorce cases.
Divorce: Time to File Now and Attempt Negotiations Later!