Early Study Reveals Online Dating Sites Among Best Meeting Place For Marital Bliss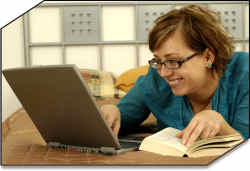 A few recently published studies have explored the new developments in the field of online dating and online dating sites.  These studies have shown that, more often than not, couples who meet on these sites are more likely to stay together and are generally happier than couples who meet offline.   Below we're going to break these studies down, go into the numbers a bit, and then detail any of the critiques that may be relevant to the recent studies.
Harris Poll Study On Online Dating
One study published in the Journal of the Proceedings of the National Academy of Sciences, involved contacting 20,000 recently married individuals.  Of these individuals, 35% met through an online dating website. (That's 7,000!)  About 20 percent of online meetings happened through a social networking site such as Facebook or Twitter, and about 15 percent of those meetings happened through instant messaging, email or a chat room. The study also goes on to detail the percentage of marriages that fall apart by couples who met online, and the percentage of marriages that fall apart for couples who met offline.  The numbers, 8 percent divorce rate for people meeting offline and 6% for people meeting online, aren't that shocking until you average the amount of marriages in the United States (4,200,000 individuals yearly).   Let's break these numbers down statistically and scale it with the Harris poll.
Marriages: 4,200,000
Online Divorce rate: 252,000
Offline Divorce rate: 336,000
Difference in Divorce Rate: 84,000 or 42,000 Couples
Income Factor
The studies detail how individuals who search for online relationships often have different lifestyles.  These individuals are often already successful in their career choices and are searching for serious and meaningful relationships.  More often than not, individuals are wealthier and have little time to search for relationships outside of the internet.  The study details how only 3% of couples who met online and married earned $15,000 or less annually, while 41% of the couples that met online and married made $100,000 or greater.
Venue Matters
These studies also detail how significant the venue in which you meet your partner comes into play.  One of the best venues available is indeed an online dating site, while the best meeting places were listed as: growing up together, going to school together, and meeting through church or religious groups.  The worst meeting places were, of course, at a bar or on a blind date.  One of the worst venues to meet and date, resulting in marriages ending at a higher percentage than any other meeting venue, is the workplace. (I'm not sure shotgun weddings were included in this study).
Reasons
While the study seems a bit premature, as online dating sites haven't been in existence for a very long time, the early results are promising.  Some of these reasons are due to the initial meetings, as you don't meet the person face to face.  This type of meeting, according to the studies, leads individuals to act more genuine and not "save face" as one might  in a bar or any other meeting place by perhaps exaggerating  certain enviable traits.  A recent Forbes article quotes eHarmony's CEO and Founder, Neil Clark Warren, where he states he was "shocked" when he and his colleagues discovered the results of the studies, a few of which he's commissioned out of curiosity and research to see where his company stands.
Online Dating Conclusion
While online dating can be a great option for individuals who desire such a thing, the results of these studies are still quite early.  Eric Berger at the Houston Chronicle says it is worth noting that this study was funded by online dating site eHarmony. Nevertheless, he says, the research offers encouraging evidence that the shift in how Americans meet and pair up "is not necessarily a bad thing for marital bliss." A lot of these results may vary with time but, at the moment, online dating services that end in marriages are booming, and the results are better than traditional meeting.  The digital age has changed nearly everything in our lives; now we've developed another potential tool that may help reduce the worsening divorce rate in our society.
© 2013, Ohio Family Law Blog. All rights reserved. This feed is for personal, non-commercial use only. The use of this feed on other websites breaches copyright. If this content is not in your news reader, it makes the page you are viewing an infringement of the copyright.

About The Author: Robert L. Mues
Robert Mues is the managing partner of Dayton, Ohio, law firm, Holzfaster, Cecil, McKnight & Mues, and has received the highest rating from the Martindale-Hubbell Peer Review for Ethical Standards and Legal Ability. Mr. Mues is also a founding member of the "International Academy of Attorneys for Divorce over 50" blog. Mr. Mues has also been a dog owner for 55+ years, and just recently, he and his wife are the owners of "Ralph", a rescued mixed Wire Hair and Jack Russell Terrier.
Online Dating: Less Likely to Divorce If You Met Your Spouse Online?