Ohio Judge Recognizes Same-Sex Marriage Performed In Another State As Legal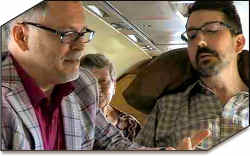 On Monday, federal Magistrate Judge Timothy Black could have opened the door to more lawsuits regarding same-sex marriage in Ohio.  Judge Black issued a temporary restraining order against multiple public officials (including Governor Kasich and Attorney General Mike DeWine) which prohibits those persons from enforcing provisions of Ohio law which prohibit state officials and institutions from recognizing same-sex marriages lawfully performed in other states in the case of Obergefell, et al. v. Kasich, et al., W.D.Ohio No. 1:13-cv-501 (July 22, 2013).
Background:
Jim Obergefell and John Arthur have been together for over 20 years.  John Arthur is currently bedridden with ALS, a neurological disease which all parties agreed will take his life in the very near future.   With the United States Supreme Court's recent ruling in United States v. Windsor, striking down the federal Defense of Marriage Act (DOMA), Jim and John decided it was time to take the plunge and get married.  Knowing that same-sex marriage is not permitted under Ohio law, Jim and John needed the marriage solemnized in one of the states where same-sex marriage is lawful.  The problem, though, was that John's ALS made travel nearly impossible as he needed constant medical treatment.  Through the help of several benefactors, they were able to raise over $12,000 to secure the use of a private flight with all the necessary medical equipment.  The couple flew from Cincinnati to Thurgood Marshall Airport in Maryland, where "Hospice" a commonly used medical service for terminally ill patients, provided for an officiant to perform their marriage ceremony on the runway.
The couple then returned to Ohio and immediately filed suit requesting that the federal district court declare unconstitutional Ohio's statutory scheme prohibiting state entities from recognizing same-sex marriages performed in other states.  In addition to filing the declaratory judgment action, the plaintiffs simultaneously requested a temporary restraining order to keep state officials from enforcing Ohio's version of DOMA during the pendency of the case (i.e., while the Court considered the larger issue regarding the constitutionality of Ohio's law).  The couple was primarily concerned with the fact that John is most certainly going to die prior to the Court reaching a decision, meaning that Ohio officials would not be allowed to file a death certificate which reflects John as "married" and Jim as his "surviving spouse."  The consequence of this is that Jim, whenever he shall eventually pass, would not be allowed to be buried next to John in his family plot (a specific directive in the family plot allows only family members and their "spouses" to be buried there).
The Decision:
Magistrate Judge Black determined that Jim and John were entitled to a temporary restraining order that specifically prohibits the Registrar of Vital Statistics from accepting any death certificate that fails to list John's marital status at his time of death as "married" and Jim as his "surviving spouse." After considering the required factors, the Court determined that (1) Jim and John had a strong likelihood of success on the merits in their larger action to declare Ohio's DOMA law unconstitutional – especially given the recent Windsor decision; (2) they were going to suffer irreparable harm if they were not granted this temporary injunctive relief as John was certain to die soon; (3) that issuance of the temporary restraining order would not cause substantial harm to others; and (4) that the public interest would be best served by issuing the restraining order.
Black notably decided it is highly likely that Ohio's constitutional and statutory provisions that prohibit Ohio from recognizing same-sex marriages (when validly entered in other states) would be struck down as a violation of the equal protection clause of the 14th Amendment.   Ohio has always recognized marriages performed in other states as long as they are considered valid under the laws of the state in which the marriage took place.  More importantly, Ohio has always recognized marriages solemnized in other states even if they would not have been permitted under Ohio law.  For example, although Ohio does not allow first cousins to marry, if a marriage is lawfully performed in a state that does permit such a marriage, Ohio has always recognized those marriages and conferred all the attendant benefits.  For Ohio to treat same-sex marriage differently is a clear violation of the equal protection clause, according to Black.
Same-Sex Marriage In Ohio Conclusion
:
It is important to note that this decision does not require Ohio to allow same-sex marriage; it is a temporary measure prohibiting the filing of a death certificate if it does not list John as married and Jim as his spouse.  That is the extent of the decision.  Further, the Order applies only to Arthur and Obergefell.  These two men were granted the extraordinary injunctive relief due to the particular circumstances of their case.  It would be difficult to find more sympathetic plaintiffs than in this case.  It is quite possible that Magistrate Judge Black would not have issued a temporary restraining order for any another couple making the same constitutional arguments, even though his belief that they would ultimately prevail would remain the same as in Jim and John's case.
Grant Stancliff, a spokesperson for Equality Ohio, said the legal recognition of their marriage is "huge" and "brought Ohio couples who are legally married in other states a ray of hope…This is one of the biggest steps that has ever been taken toward marriage equality in Ohio," Stancliff said. "It is a fantastic ruling for Jim and John. They really deserve the dignity and respect they were shown by Judge Black. Of course, so do the rest of legally married Ohioans."
Time will tell what impact this case has on the same-sex marriage debate in Ohio.
Click here to read more on the July 22, 2013 same-sex marriage case in Ohio. Also, check out a video below.
© 2013, Ohio Family Law Blog. All rights reserved. This feed is for personal, non-commercial use only. The use of this feed on other websites breaches copyright. If this content is not in your news reader, it makes the page you are viewing an infringement of the copyright.
About The Author: Charles W. Morrison
Charles "Bill" Morrison is Of Counsel with Dayton, Ohio, law firm, Holzfaster, Cecil, McKnight & Mues and the managing editor of the Ohio Criminal Defense Law Blog. He is also a member of the Association of Ohio Criminal Defense Lawyers.
Same-Sex Marriage in Ohio: The Debate Begins!