Divorced Family During Summer Vacations? How To Get through The Downtime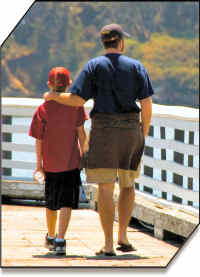 "As I watched my children wait at the window for their father to arrive, I couldn't believe the flood of feelings I experienced," Julie, thirty-eight, a divorced mother of two boys, seven and nine, explained. "Their father is taking them to New York with his girlfriend. Her parents own a large summer house in the Adirondacks. She has six brothers and sisters, all married with children. They are all coming this week for a family reunion."
"As an only child raised in a large city, I never had this kind of experience. I am excited for my children that they can have all these new people in their lives. They will get the experience of a large family. I find myself wishing that I could give them such an experience. I wonder if they will love this new family more than they love me. Of course, I know this is not the case. But sometimes, I feel so insecure."
"I guess I am also envious of their experience. In some ways, I wish I were going, too. Not to be with my ex-husband, but to have this wonderful family experience that I never had growing up. I also realize that the kids will share this experience and these memories with him, and I will not be a part of it. It is hard not to feel excluded and left out. I even thought about not letting them go, but I know that would be based on my issues and not what is best for the children."
Julie eloquently describes what many divorced mothers feel: although no longer emotionally attached to their ex-husbands, they have mixed feelings as their children begin to have life experiences that do not include them. She feels threatened, envious, left out, a little angry, and a bit melancholy. She explores these feelings and then begins to shift her focus.
"I need this week to myself. The truth is that when we were married, we immediately had kids. I never got breaks like this. I could never have gone back to school while we were still together." Julie is working on her nursing degree, something she has always wanted to do. "This week gives me time to really study for the Boards. I also plan to have some down time. I don't know when the last time was that I had time to myself. Although I am sad, every time my children's father picks them up, I am also relieved to have the time to myself. When my children are away, I get to focus on myself. I think, in the long run, it has made me a better parent. I have more patience, and I am better able to focus on their needs. I don't feel as resentful as I once did, needing to put everyone else's desires and needs before my own."
"I didn't always feel this way. I was wild when he left me. But in time, I learned that it was for the best and just as I began accepting that, BAM, he found a girlfriend. Through the support of my friends and therapist, I was able to recognize that we are both moving on with our lives. His new girlfriend is wonderful with my kids, and they have a great time with her. They adore having this big family that they didn't have with their father and me. I used to worry that they would forget about me. Now I see how silly that was. They are overjoyed to come home from their visits, no matter how much fun they have had. I know now that I am their Mom and that will never, ever change. When he left, I could never have imagined I would ever feel so good."
"Today, I feel so many emotions when my children go away with their father. They are experiencing things which I am not a part of. While that makes me sad, I am grateful for the opportunities they have to see and experience new things. In the meantime, I will treasure my downtime, focusing on what I need to do for myself."

© 2013 Donna F. Ferber, LPC, LADC, is a psychotherapist in private practice in Farmington, CT since 1986. This article is adapted from her first book, From Ex-Wife to Exceptional Life: A Woman's Journey through Divorce, which is now available in Kindle format for $9.99 as well as in paperback. To read more about the author and her work, please visit www.donnaferber.com
© 2013, Ohio Family Law Blog. All rights reserved. This feed is for personal, non-commercial use only. The use of this feed on other websites breaches copyright. If this content is not in your news reader, it makes the page you are viewing an infringement of the copyright.

About The Author: Guest Contributor Donna F. Ferber, LPC, LADC
Donna F. Ferber, is a psychotherapist in private practice for 28 years. She is a licensed professional counselor, a licensed alcohol and drug abuse counselor and an educator. Donna works with individuals and in groups. Her office is in Farmington, Connecticut.
Summer Vacations and the Divorced Family