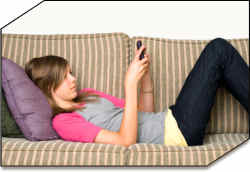 Our teens live in a digital universe.  They may be talking with one friend while texting another.  While giving us some superficial answer about what happened at school, they may be posting their real feelings on Facebook.
Research conducted last year by Commonsensemedia.org gives us some insight into this alternative world.  Sixty-eight percent of teens text daily and 51 percent visit a social media site such as Facebook at least once a day.  This is scary to many parents, but not to their children.  They experience this electronic world in very positive ways.  Teens report that social media sites help them feel less shy (29 percent), more confident (20 percent) and sympathetic to others (19 percent). Kids 13 to 17 years of age report that such sites have improved their relationships with friends (52 percent) and family members (37 percent).  Only five percent of teens report that social media makes them feel more depressed.
We worry about things that we don't understand, and this digital world is foreign and frightening to many parents.  Here are the four most common mistakes made by parents in attempting to guide their kids' electronic lives.
Prohibit technology.  Some parents take pride in the fact that they won't allow their kids to text or use social media.  That may work fine for some families, but please realize that our job as parents is to prepare teens for a time when we won't be around. Wouldn't it be better to learn how to manage this technology under parental guidance rather than let kids figure this out as young adults?
No supervision.  Most parents go to extraordinary lengths to supervise their teens but think little of buying a smartphone for their child, with 58 percent of teens now owning such phones.  At least for young teens, their access to such technology should come with an expectation that parents can access their texts and Facebook accounts.
Ambiguous expectations.  I've been impressed by those parents who have their kids sign an agreement that clearly specifies parental expectations about the use of technology.  This may include limits on when phones can be used, access to texts, and restrictions on visiting certain websites.
Overreaction or underreaction to mistakes.  Our kids are going to send inappropriate texts, post offensive information on Facebook or spend excessive time on the Internet.  Don't overreact to those situations.  I admire those parents who can navigate these issues by implementing reasonable consequences.  They avoid the extreme of either dismissing such mistakes as normal, or overreacting and taking away a cell phone for a year.
kids love this technology and experience it as mostly positive.  Let's help them learn how to minimize the risks when experiencing the many benefits.

Gregory Ramey, Ph.D., is a child psychologist and vice president for outpatient services at the Children's Medical Center of Dayton.  For more of his columns, visit www.childrensdayton.org/ramey and join Dr. Ramey on Facebook at www.facebook.com/drgregramey.  Dr. Ramey has been a guest contributor to the Ohio Family Law Blog since 2007.
[Reprinted by permission from the May 12, 2013, edition of the Dayton Daily News, "4 Errors in Guiding Kids' Use of Technology", Gregory Ramey, PhD]
© 2013, Ohio Family Law Blog. All rights reserved. This feed is for personal, non-commercial use only. The use of this feed on other websites breaches copyright. If this content is not in your news reader, it makes the page you are viewing an infringement of the copyright.

About The Author: Guest Contributor Gregory Ramey, PhD, Child Psychologist and Dayton Daily News Columnist
Gregory Ramey, PhD, is a nationally recognized child psychologist and columnist who has worked at Dayton Children's Hospital since 1979. In addition to his weekly column in the Dayton Daily News about effective parenting, Ramey has conducted more than 200 workshops and has recently been quoted in articles in Redbook, Parenting, Ladies Home Journal as well as columns distributed by the New York Times Wire Service.
4 Errors in Guiding Kids' Use of Technology