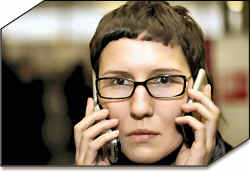 I've lately been feeling as if I'm fighting a war against our culture, and I'm afraid I'm losing.
My conversation with a friend was abruptly interrupted when he reached into his pocket and looked at his cell phone. When I asked if everything was okay, he casually responded that he was just checking his email, like an addict desperate for his electronic fix.
While searching through YouTube for some music videos, I was taken aback by the content of some of the videos posted by young kids. The language and the overt sexuality were offensive and grossly inappropriate.
Thanksgiving is the latest victim of these culture wars.  Like most families, we have traditions that connect us to our past and bring us together for special times. I begin the morning by running a five-mile race along with 10,000 other runners, including my family.  We eat dinner together, and then watch a movie or take out the decorations in preparation for cutting down our Christmas tree the following day.
Many retail workers can no longer enjoy such a holiday.  With large stores trying to attract consumers with door buster deals on Thanksgiving, others are required to work so that we can benefit from having yet another day to get things we don't need with money we don't have. The irony is overwhelming. This is a holiday historically grounded in pausing and giving thanks, not in rushing to buy more.
I feel like a victim, overwhelmed by toxic societal changes. I want my friend to give me his full attention when we are together, not be distracted by his cell phone. I want parents to more closely supervise their kids' electronic worlds. I want stores to close for Thanksgiving so that we can retain a focus on appreciation for what we have, not on purchasing what we don't.
This victim role I've been experiencing goes against everything I teach kids during our therapy sessions, so maybe I'll follow my own advice. When kids express these feelings, I advise them to change the way they think and what they do.
Changing our thinking patterns is critical, as we need to recognize that while we have little control we have lots of influence. Once we recognize that influence, we can modify our behavior.
I can't prohibit stores from opening on Thanksgiving, but I can avoid shopping on that day. I can't cure cell phone addiction, but I can control how I use my phone. Most importantly, I'll continue to encourage parents to have a strong set of values and live by those principles as a model for our kids.
You are a victim of our culture only if you allow yourself to be so.

Gregory Ramey, Ph.D., is a child psychologist and vice president for outpatient services at the Children's Medical Center of Dayton.  For more of his columns, visit www.childrensdayton.org/ramey and join Dr. Ramey on Facebook at www.facebook.com/drgregramey.  Dr. Ramey has been a guest contributor to the Ohio Family Law Blog since 2007.
[Reprinted by permission from the December 1, 2013, edition of the Dayton Daily News "Fighting a Losing Battle Against Our Modern Culture", Gregory Ramey, PhD]
© 2013, Ohio Family Law Blog. All rights reserved. This feed is for personal, non-commercial use only. The use of this feed on other websites breaches copyright. If this content is not in your news reader, it makes the page you are viewing an infringement of the copyright.

About The Author: Guest Contributor Gregory Ramey, PhD, Child Psychologist and Dayton Daily News Columnist
Gregory Ramey, PhD, is a nationally recognized child psychologist and columnist who has worked at Dayton Children's Hospital since 1979. In addition to his weekly column in the Dayton Daily News about effective parenting, Ramey has conducted more than 200 workshops and has recently been quoted in articles in Redbook, Parenting, Ladies Home Journal as well as columns distributed by the New York Times Wire Service.
Fighting a Losing Battle Against Our Modern Culture