Is Adultery A Crime Under The Uniform Code Of Military Justice?
The Legal Ramifications For Military Members Who Commit Adultery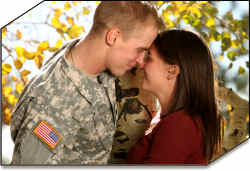 Adultery is fairly common in our society.  Frequently, adultery is the grounds for many legal separation and divorce actions; however, "marital fault" is not typically given a great deal of attention by our legal systems.  There are some steps individuals can take to help ensure their asset protection from adultery, such as prenuptial agreements, which may limit the ability for one spouse to take part in the estate once the divorce commences.
A research report conducted by the Associated Press found that nearly 22% of men have strayed during their married lives, and nearly 14% of women have done the same.  Even more say that if they could have an affair, and never have the risk of being caught, they would (Men = 74% Women = 68%).
These numbers are staggering, but not totally surprising.  Adultery isn't a crime, and individuals are more often than not free to act on these urges with no legal ramifications (outside prenuptial agreements).  Things get a bit more complicated if these individuals are members of our nation's military.
It is often a misconception that "adultery" is a crime under the Uniform Code of Military Justice ("UCMJ"). It is not.  The provisions of the UCMJ apply to many individuals- including any reserves, cadets or entry level trainees, and even apply to National Guard members when they are in federal service.
The UCMJ is federal law that was enacted by Congress to list the legal ramifications for military members, including court marshals.  The UCMJ Is comprised of 146 articles; subchapter 10, articles 77-134 are the articles that describe the "punitive articles" or, in easier words, the actual criminal offenses.  Adultery is covered in the last article of these punitive articles.
Article 134 of the UCMJ describes the three elements listed and required for punishment under the UCMJ for adultery.  These elements are:
That the accused wrongfully had sexual intercourse with a certain person;
That, at the time, the accused or the other person was married to someone else; and
That, under the circumstances, the conduct of the accused was to the prejudice of good order and discipline in the armed forces or was of a nature to bring discredit upon the armed forces.
Article 134 goes on to explain that adultery is clearly unacceptable conduct, and that by committing it, you're reflecting adversely on the service record of a military member.   The maximum punishment for such crime under the UCMJ is either dishonorable discharge, forfeiture of all pay and allowances, and confinement for 1 year.
The normal punishment for adultery is much less.  In fact, individuals are often not charged with just adultery.  If they're being charged with adultery, odds are they're also being charged with numerous other crimes, such as lying to a superior, sexual misconduct, and failing to obey orders.   Unless these crimes are severe enough to be coupled with other offenses, individuals are often lectured and a private reprimand is enacted, often resulting in extra duty.
Compared to civilian laws across the country that prohibit adultery, the military takes adultery very seriously. For example, Maryland still has a criminal adultery law; however, under Maryland law, the maximum penalty for adultery is a 10 dollar fine, whereas the maximum UCMJ penalty is loss of all retirement benefits, discharge from the military and a year of confinement.
Potential Criminal Liability For Adultery Under UCMJ
Due to the inherently ambiguous nature of these various considerations, there will always be the potential for criminal liability under the UCMJ or exposure to adverse administrative action when a military soldier undertakes a new sexual relationship while still married, regardless of whether the couple is "legally separated."  If you are covered by the UCMJ, the only 100 percent safe course of action is to wait until a state court has granted you a final decree of divorce making you "single" again before starting any new romantic relationship.
© 2014 – 2018, Ohio Family Law Blog. All rights reserved. This feed is for personal, non-commercial use only. The use of this feed on other websites breaches copyright. If this content is not in your news reader, it makes the page you are viewing an infringement of the copyright.

About The Author: Robert L. Mues
Robert Mues is the managing partner of Dayton, Ohio, law firm, Holzfaster, Cecil, McKnight & Mues, and has received the highest rating from the Martindale-Hubbell Peer Review for Ethical Standards and Legal Ability. Mr. Mues is also a founding member of the "International Academy of Attorneys for Divorce over 50" blog. Mr. Mues has also been a dog owner for 55+ years, and just recently, he and his wife are the owners of "Ralph", a rescued mixed Wire Hair and Jack Russell Terrier.