Don't Know Your Spouse's Location? How to Complete "Service of Process" When Seeking A Divorce In Ohio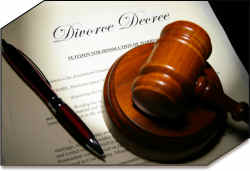 When I am retained by a client (Husband or Wife) who is seeking a divorce from his or her spouse, one of my initial questions is:  Do you know where your spouse is residing?  Or, do you know where your spouse is living or working?  This information is important as the spouse will need to be formally "served" with the Complaint for Divorce and associated pleadings (Financial Affidavit, Parenting Proceeding Affidavit, Family Questionnaire, and Title IV-D Application for Child Support Services).  The two (2) most commonly used methods of serving a party with the necessary divorce papers are:
Personal Service of Process:

 A Process Server is identified to personally go to the residence or place of employment of the Defendant and to personally deliver the divorce packet (containing all the pleadings and Summons of the Court) to the Defendant.  The Process Server then notifies the Court that personal service of the Defendant has been completed or accomplished.  What are the qualifications of a Process Server?  The person must be eighteen (18) years or older,

not

a party to the case, and appointed by the Court to be a Process Server.

Certified Mail Service of Process:

 The Clerk of Court mails the divorce packet to the Defendant by certified mail.  When the Defendant later signs for the certified divorce packet, a light green postcard is returned to the Clerk of Court who notes that certified mail service has been accomplished.
But what can a Plaintiff do when he or she does not know the whereabouts of the Defendant?  Rule 4.4 of the Ohio Rules of Civil Procedure and Local Rule 4.12 address the issue of Service by Publication.  With this method of service, a Notice is published in the Dayton Daily News for six (6) consecutive weeks.  Thereafter, the Dayton Daily News provides divorce notice to the Clerk of Court that service of process has been effectuated by publication.
It is expected by the Court that the Defendant or a family member or friend will actually read the Legal Notices in the Dayton Daily News and thereby become informed that a divorce action has been commenced against the Defendant.  For your information, I now provide for you a Legal Notice of divorce that was recently published by the Dayton Daily News.  Note: the Plaintiff's name has been changed to protect his identity.
Divorce Notice
"R. Anne Shale (Attorney)
1105 Wilmington Avenue
Dayton, Ohio 45420-4108
Jane A. Doe (Defendant)
whose last known place of residence was 104 Center Circle, Centerville, Ohio 45459, will hereby take notice that on the 13th day of May, 2014, John W. Doe (Plaintiff), filed his Complaint against her in the Court of Common Pleas, Division of Domestic Relations of Montgomery County, 301 W. Third Street, 2nd Floor, Dayton, Ohio 45422.
The Case Number is 2014-DR-1234 on the docket of said court. Plaintiff is praying for a Decree of Divorce from Defendant on the grounds of living separate and apart for more than one year and incompatibility.  That said case is entitled John W. Doe vs. Jane A. Doe.
Said Jane A. Doe (Defendant) will further take notice that she is required to answer said Complaint on or before the expiration of six weeks, from the date of the first publication notice."
The Plaintiff intending to use Local Rule 4.12 entitled Service by Publication must file with the Court his or her Affidavit setting forth the steps that the Plaintiff has taken to try to find the whereabouts of the Defendant.  In a recent divorce proceeding, my client took the following actions to find the whereabouts of his spouse:
Contacted her family to see if they knew where she is residing.
Tried to contact her on her cell phone.
Tried to contact her on Facebook.
Called former friends of hers to see if they knew where she is residing.
Contacted former employers of Wife to see if they might know where she is living/working.
Went to bars/night spots that she used to frequent to see if he could find her there or find friends of hers there.
Did an internet search to try to find where his wife is living.
What Is The Cost For A Divorce Legal Notice?
What is the cost of effecting Service of Process by Publication?  The Dayton Daily News charges $200.00 to publish the Legal Notice for six (6) consecutive weeks.  This cost is more than effecting personal service upon a Defendant by a process server ($50.00-$75.00) and more than effecting service by certified mail ($7.00).  Certainly, this method of publication also takes longer than effecting service by personal service or certified mail service but it may be your only "due process" option to obtain your divorce. Without proper service of process, the divorce action cannot go forward.
Consult Your Dayton Divorce Attorney For Service Of Process Options.
If you are an individual in a loveless and/or unrewarding marriage and have been contemplating the filing of a Complaint for Divorce but have held off because you don't know your spouse's location, there is this service by publication remedy. Be sure to consult your Dayton divorce lawyer if you have questions or need help evaluating all the service of process options which might be available.
© 2014 – 2018, Ohio Family Law Blog. All rights reserved. This feed is for personal, non-commercial use only. The use of this feed on other websites breaches copyright. If this content is not in your news reader, it makes the page you are viewing an infringement of the copyright.

About The Author: Anne Shale
Anne Shale is of counsel to Dayton, Ohio, law firm, Holzfaster, Cecil, McKnight & Mues. She is a former registered nurse and concentrates her practice in Family Law and Divorce cases.
Divorce: Service Of Process In Ohio