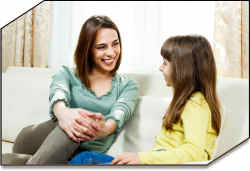 Communicating with your kids is all about talking in a way that they will listen, but also listening in a way that they will talk.
Listening isn't easy, as many parents ignore the Law of Moderation, either talking too much or not saying enough in response to their kids' comments. If you say nothing, youngsters don't know if you really understood them. If you respond too aggressively, kids feel like you may be dismissing their concerns. Here are the five keys to effective listening.
Give your full attention. Conversations with kids often seem to happen at inconvenient times, such as when you just get home from work or are busy with doing something else. Postpone what you are doing and listen to your child, without the distractions of television or your smart phone.
Ask lots of questions. Many youngsters aren't sophisticated in clearly articulating their thoughts and feelings. Their words may be imprecise or extreme. Instead of getting upset, ask open-ended questions such as, "Can you tell me more about that?" "How are you thinking about handling this?" or "What happened then?"A statement such as "Don't you think you could have made a better decision?" isn't a question but a criticism, and is a certain conversation terminator.
Summarize the main idea. Talk less so you can listen more. However, after your child has spoken for a few minutes, try to summarize the main idea of what you think you heard. "So you believe you've proven you're responsible enough to drive because your grades are excellent" may be a good summary of a teen's argument for getting their learner's permit. If your paraphrase is wrong, ask your child to clarify their comments.
Summarize the main feeling. Sometimes kids just want your warm presence and acceptance, not a solution to their situation. In these types of conversations, young people are more interested in your understanding of how they feel, not what they think. You need to listen really carefully to the undertones and emotions of the conversation. Try to say back the main feeling (not idea) of what they are experiencing. "So you really want to get your learner's permit, but you seem anxious about getting into an accident."
Don't offer false reassurances to your child. Although well intentioned, such comments may have the unintended consequence of actually dismissing your child's feelings.
End the conversation. Don't rush to a solution or feel as if it is your responsibility to solve your child's problems. Sometimes the best way to end a conversation is simply to thank your teen for bringing up some issue and give it more time for consideration.

Gregory Ramey, Ph.D. is the Executive Director for Pediatric Mental Health Resources at Dayton Children's Hospital and is also a clinical assistant professor of pediatrics at Wright State University Boonshoft School of Medicine. For more of his columns, join Dr. Ramey on Facebook at www.facebook.com/drgregramey. Dr. Ramey has been a guest contributor to the Ohio Family Law Blog since 2007.
[Reprinted by permission from the February 2, 2014, edition of the Dayton Daily News "Fine art of listening so kids will talk", Gregory Ramey, PhD]
© 2014 – 2018, Ohio Family Law Blog. All rights reserved. This feed is for personal, non-commercial use only. The use of this feed on other websites breaches copyright. If this content is not in your news reader, it makes the page you are viewing an infringement of the copyright.

About The Author: Guest Contributor Gregory Ramey, PhD, Child Psychologist and Dayton Daily News Columnist
Gregory Ramey, PhD, is a nationally recognized child psychologist and columnist who has worked at Dayton Children's Hospital since 1979. In addition to his weekly column in the Dayton Daily News about effective parenting, Ramey has conducted more than 200 workshops and has recently been quoted in articles in Redbook, Parenting, Ladies Home Journal as well as columns distributed by the New York Times Wire Service.
Fine Art of Listening So Kids Will Talk