How To Prepare For A Successful School Experience – 10 Practical Back To School Tips for Parent And Child Transitioning Into A Separation or Divorce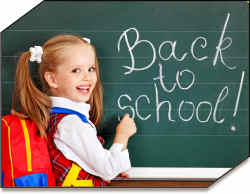 School is right around the corner for many children and their parents.  This time of the year, while always somewhat stressful for children, can bring even more anxious unknowns for a child when their parents are separated.  Regardless of your relationship with your former spouse there are some steps you can take to ensure your children, and their teachers are prepared for the coming year.
The first thing to remember is even if you're not on good terms with your spouse, you must respect them as a mother and a father.  Being able to set aside marital differences to ensure your child has a smooth and educational start to the school year is essential as a parent.  Below are some steps that every parent should take, regardless of your relationship with each other.
Communication:

 Make sure you're communicating about school work, grades, extracurricular activities and other school events with your spouse.  Work out a parenting schedule. Make sure both of you know what's on the horizon, what assignments are assigned, and when they're due.  This way you can ensure that your child is benefiting from their schooling and you're not hogging all the parental duties yourself.

Extracurricular Activities:

 Show up.  Absent an Order to the contrary, both parents can be at these events to watch their child.  Not only will this relieve some stress for the parents, but also for the child. Don't make your child's activities and social events about your inability to be together.

Parent-Teacher Conferences:

  Both should attend.  If you're both assisting in school work, then you're both necessary to discuss the progress the child is making.  Don't request two separate conferences with your child's teacher. The teacher's time is limited, and it is also important that you are both hearing the same comments.  Again, it is important to put aside your differences.  No teacher wants to hear negative comments from one parent about the other.  Remember they are not interested in your marital problems.  They are interested in helping your child achieve in their classroom.

Never Use Your Child as a Messenger:

 Don't use your child as a "carrier pigeon" for communications.  If you aren't able to talk face to face, then email or text. Children shouldn't be the messenger in any situation, let alone regarding schooling, sports, or other events.

Organization.

 Often when parents are living separate, the child's school work can become confusing from moving it back and forth.  Make sure you send your child to their mother/fathers with an organized and precise backpack or binder. Sometimes the school is willing and able to provide duplicate text books so that both parents have the necessary materials at their individual homes. Having extra uniforms, school shoes, gym outfits etc, at each house can also be helpful for eliminating stressful mornings.

Plan Ahead.

 Sit down or email back and forth with the other parent to discuss what will happen on holidays, calamity days or other days off. Review the school calendar.  What is the plan if your child becomes ill at school?

Give the Teachers a Heads-Up.

 Let your child's teacher know the dynamics of the parenting situation. Make sure the school and the teacher both have each of your emails and cell phone numbers so that you both receive pertinent notifications.  If you're the only parent involved with the school, let the teacher know.  If you're sharing school responsibilities, also let the teacher know.  This will alleviate any confusion and help the child progress better in school.  Ask the teachers to advise you if they notice any possible issues with your child as soon as possible.

Try to Coordinate Rules:

 Discuss with the other parent school rules and expectations and do your best to make them consistent.  Make sure you're not telling your child their bed time is 11pm, and it's 9pm at the others.  Make sure you're each allocating sufficient time for school work and play time. This will help schooling, and prevent favoritism. Trying to stick with similar routines is helpful for the child. For example if the child knows he or she is to come right home, have a snack, and then start homework, it is beneficial that both parents try to follow the same routine.

Stay Involved and Pro-Active:

If your child experiences new problems at school, communicate with the other parent, teachers, and quickly get counselors involved. SPEND MORE TIME WITH YOUR CHILD and follow the experts' recommendations.

Schooling Must be a Priority:

And finally, realize that none of the separation issues should fall upon your child.  This is all about your child.  Divorce makes school along with every other event in a child's life much harder.  Make sure you and your former spouse are ensuring that the child has as smooth of a transition during the separation as possible.
Work Together As A Parent To Bring A Successful School Year To Your Child
Although you and your spouse or ex-spouse may disagree on many issues, it seems safe to say that you both want your child or children to have a successful school experience. Putting aside differences and presenting a united front as far as school expectations can make all the difference in how your child achieves academically this school year.  Children going through big changes in their life such as separation or divorce, deserve to have two parents who can work together to ensure that they have the best school year possible.
© 2014 – 2018, Ohio Family Law Blog. All rights reserved. This feed is for personal, non-commercial use only. The use of this feed on other websites breaches copyright. If this content is not in your news reader, it makes the page you are viewing an infringement of the copyright.

About The Author: Robert L. Mues
Robert Mues is the managing partner of Dayton, Ohio, law firm, Holzfaster, Cecil, McKnight & Mues, and has received the highest rating from the Martindale-Hubbell Peer Review for Ethical Standards and Legal Ability. Mr. Mues is also a founding member of the "International Academy of Attorneys for Divorce over 50" blog.
School Year Preparations For Child And Parent