Can Sudden Divorce Syndrome Impact You Both Emotionally And Legally? What You Need To Know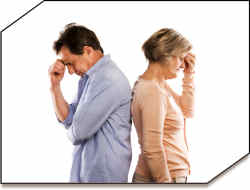 Sudden Divorce Syndrome (SDS) refers to a situation that occurs, most often in a man's life, where his spouse, without any signs, wants a divorce.  Perhaps the most publicized SDS (Sudden Divorce Syndrome) case involves Mr. Martin Paul.  Mr. Paul discusses how he was nearing retirement, wasn't having any ill feelings towards his wife, and had even been planning numerous vacation and relaxation events for himself and his wife together.  Unbeknownst to Mr. Paul, his wife had other plans.  She blindsided him when she announced that she wanted a divorce.  Following the completion of the divorce Mr. Paul was devastated. He was unable to cope with the loss of his family and the accusations his wife threw his way.  He overdosed multiple times but each time was able to dial 911 in time.  Mr. Paul now lives overwhelmed with the  memories of his past life and now considers himself a "broken man."
Martin still loves his wife and was completely unaware of her desires for a divorce.  This quick onset of divorce is referred to as "sudden divorce syndrome" and while you won't find it on any official psychiatric disorder list, it does occur in real life, illustrated by Martin Paul and by many clients whom I have represented over the years.
The reason for this may be embedded in our current cultural relationship statuses.  Steven Nock, author of Marriage in Men's Lives, describes marriage to men as compared to motherhood for women.  He states that marriage makes men "grow up" and once that marriage suddenly ends, men are left in a confused state and are not sure what to do.  According to many, what also happens is that today's divorce system tends to award wives more benefits than men, including support, custody, and assets.
This leaves men not only financially burdened, but also emotionally burdened.  Nearly one in four men report that their divorce was sudden and unexpected, while only 14% of women report the same.  The filings for divorce are also one sided. Some years women file upwards of 65% of the divorces in the United States, while it has been as high as 75% other years.
Donna Ferber, a psychotherapist and a frequent contributor to the Ohio Family Law Blog agreed to co-author an article with me about SDS (Sudden Divorce Syndrome). Our goal was to present both the legal and emotional perspectives of a trend that we both were seeing in our professional practices: long term marriages ending by divorce when the wife has come to the conclusion that she has just "had enough" and that the husband is seemingly caught "blindsided" by the situation. Click here to read our in-depth exchange on this topic posted on August 14, 2010.
Work On Comunication To Avoid Sudden Divorce Syndrome (SDS)
One way to hopefully avoid this scenario is to continually work on communication as a couple.  Keep this Stephen R. Covey quote in mind when communicating with your spouse, "Most people do not listen with the intent to understand; they listen with the intent to reply."  If you sense any distance with your spouse, seeing an experienced therapist to work on communications as well as your respective feelings can be extremely beneficial to avoid a divorce and Sudden Divorce Syndrome.
© 2014 – 2018, Ohio Family Law Blog. All rights reserved. This feed is for personal, non-commercial use only. The use of this feed on other websites breaches copyright. If this content is not in your news reader, it makes the page you are viewing an infringement of the copyright.

About The Author: Robert L. Mues
Robert Mues is the managing partner of Dayton, Ohio, law firm, Holzfaster, Cecil, McKnight & Mues, and has received the highest rating from the Martindale-Hubbell Peer Review for Ethical Standards and Legal Ability. Mr. Mues is also a founding member of the "International Academy of Attorneys for Divorce over 50" blog. Mr. Mues has also been a dog owner for 55+ years, and just recently, he and his wife are the owners of "Ralph", a rescued mixed Wire Hair and Jack Russell Terrier.
Divorce: Sudden Divorce Syndrome in Ohio