The U.S. Supreme Court's Refusal to Rule on Same-Sex Marriage Cases has Broad Implications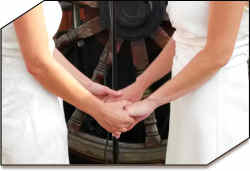 The United States Supreme Court recently declined to take up an issue regarding same-sex marriage.  By declining to take these cases, the court has allowed men and women to have entered into same-sex marriages in eleven states that previously didn't allow same-sex marriages.*
By refusing to take up the appeals of these cases, they have in essence upheld the rulings that all allowed same-sex marriage.  Those new eleven states that are now required to recognize and issue same sex marriage certificates are listed below. Even more surprising is that the court did not issue an explanation (which is typical) as to why they decided not to rule on the cases.
These cases came up through the Federal Courts of Appeals.  There are 12 of these federal appellate courts in the United States.   These courts cover several states within their jurisdiction, which is how 11 states recently had their same-sex laws implemented.
To make this matter even more interesting, the 6th Circuit of Appeals Court located in Cincinnati, Ohio, which controls Ohio's federal laws, is currently considering an appeal of same-sex marriage.  The result of this case will likely decide whether or not Ohio permits the issuance of same-sex marriage certificates.
Ohio's same-sex marriage laws currently don't allow the issuance of marriage certificates.  If you recall our past articles on this issue, Ohio, under the recent DOMA ruling, is required to recognize out-of-state legal same-sex marriages as legitimate marriages.
The current status of same-sex marriage is rapidly changing in the United States.  In 1997, Hawaii became the first state to offer Domestic Partnership Benefits to same-sex couples.  Today more than 30 states have legal same-sex marriage laws on the books, and several circuit courts have cases pending in appeal.  By the end of next year, we could see nearly 40+ states with same-sex marriage laws.
Read More On Our Blog About Same-Sex Marriage Cases
You can find the previous Ohio Family Law Blog articles discussing significant developments in same-sex marriage cases here:
https://www.hcmmlaw.com/blog/2013/07/27/same-sex-marriage-ohio-debate-begins/
https://www.hcmmlaw.com/blog/2013/06/29/doma-ruling-impact-historic-supreme-court-decision/
https://www.hcmmlaw.com/blog/2013/04/06/gay-marriage-supreme-court-tackles-same-sex-marriage-issues/
* These 11 states affected by this same-sex marriage decision are:  Colorado, Indiana, Kansas, North Carolina, Oklahoma, South Carolina, Utah, Virginia, West Virginia, Wisconsin, and Wyoming.
© 2014, Ohio Family Law Blog. All rights reserved. This feed is for personal, non-commercial use only. The use of this feed on other websites breaches copyright. If this content is not in your news reader, it makes the page you are viewing an infringement of the copyright.

About The Author: Robert L. Mues
Robert Mues is the managing partner of Dayton, Ohio, law firm, Holzfaster, Cecil, McKnight & Mues, and has received the highest rating from the Martindale-Hubbell Peer Review for Ethical Standards and Legal Ability. Mr. Mues is also a founding member of the "International Academy of Attorneys for Divorce over 50" blog.
Same-Sex Marriage Case Declined By U.S. Supreme Court