An Update on Dayton's Domestic Violence Resource Agency – The Artemis Center in Montgomery County, Ohio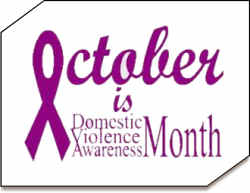 As the month of October is Domestic Violence Awareness Month, I chose to update an Ohio Family Law Blog article I had posted six (6) years ago on October 25, 2008.  Click here to read it. On Friday, October 10, 2014, I again travelled to Artemis Center to meet with and interview the new Executive Director, Judy Strnad.  Ms. Strnad is a graduate of DePaul University and received a Master in Social Work degree from the University of Illinois in Chicago. The new Director has over twenty-four (24) years of experience in administrative positions with non-profit organizations.  She commenced her position as Executive Director on April 28, 2014.
We began our discussion regarding the topic of Domestic Violence by addressing the "new" wallet-sized cards being issued to persons obtaining a Civil Protection Order ("CPO") in Montgomery County, Ohio.  The wallet-sized card contains all the information that is included in a multi-page document that includes the Petition for Civil Protection Order in Domestic Violence and the resulting Civil Protection Order.  The wallet-sized card is the result of collaboration between the Domestic Relations Court, the Montgomery County Sheriff's Office, and the Artemis Center.  The wallet-sized card makes it easier for police officers arriving on the scene of an alleged violation of a CPO to know the identity of the persons protected by the Civil Protection Order and to know the identity of the person against whom the CPO was filed.
We next discussed the news coming forth this past Summer regarding incidents of domestic violence in the National Football League ("NFL") and the League's rather "belated" and "minimal" response to it.  Roger Goodell, the Commissioner of the NFL, has stated that "this time, we are going to get it right!" in response to criticism he received for suspending a football player for a mere two (2) games after a videotape graphically reflected a clear incident of domestic violence against his then fiancé.  Judy felt the publicity about the incidents of violence within the NFL was helpful as it brought the topic of Domestic Violence to the forefront of discussion and made headline news for many weeks.
As mentioned in my previous article and as discussed by Judy Strnad and me during our recent meeting, domestic violence includes "an intentional pattern of abusive behaviors used by one person to manipulate, control, and intimidate a partner, other family member, or roommate. Domestic violence may include actual "battering" behaviors such as hitting, choking, pushing, shoving, punching, and may include verbally abusive behaviors such as chiding, belittling, name-calling, and making threatening remarks."  Often, the perpetrator of the abuse engages in behaviors intended to isolate the victim by limiting her access to money, the use of the car, or even the use of a cell phone.  While I use the word "he" as the perpetrator of the violence, there are cases wherein the female in the relationship is the perpetrator of the abuse.  Those cases are in the minority!  Ninety-five percent (95%) of victims of domestic violence are women.
How Great is the Problem in Montgomery County, Ohio?
Artemis Center has seen a 34.5% increase in the number of individuals seeking services in the first quarter of 2014 compared to the number of individuals seeking services in the first quarter of 2013.
Artemis Center expects to serve upwards of 5,500 individuals in 2014.
In a recent Dayton Daily News article, Sergeant Julie Stephens stated that the Montgomery County Sheriff's Department receives 275-475 reports of Domestic Violence per month.
How Great is the Problem in the United States?
One in four women experiences domestic violence in her lifetime.
Domestic violence is the single largest cause of injury in the United States.
Domestic violence happens to people from all walks of life regardless of class, ethnicity, race, faith tradition, age, or sexual orientation.
80% to 90% of children living in violent homes are aware of the abuse.
Judy explained that Artemis Center is proud to offer the following services at no charge or cost to victims of domestic violence:
Twenty-four (24) hour Domestic Violence Hotline — 222-SAFE (7233).  Artemis Center advocates answer the line Monday through Friday from 8:00 a.m. to 8:00 p.m.  At other times during the day and on weekends, the telephone is answered by YWCA staff.
Crisis intervention and supportive services.
Assistance with the legal process and obtaining a Civil Protection Order ("CPO").
Children's Therapy Program.
Support/Education Groups.
Individual and group therapy sessions.
Community education in keeping workplaces safe from domestic violence.
When I interviewed the former Director, Patti Schwarztrauber, in 2008, Artemis Center had a staff of twenty-five (25).  Today, the Center has a staff of just eighteen (18).  It is surely a challenge for the Center and its staff to continue to provide quality services with fewer personnel.
The city of Dayton is indeed fortunate to have two (2) separate and distinct programs to assist victims of domestic violence.  The programs are:
Non-Shelter Artemis Center: shelter and sleeping quarters are not provided by Artemis.
Shelter Program via Dayton YWCA: shelter and sleeping quarters are provided to victims and their children.
Director Strnad explained that she is working closely with the Director of Dayton YWCA Shelter Program in a collaborative effort to improve and expand services provided by both programs.  This collaborative effort began in August 2014, and there are plans for this relationship to continue in the future.
Artemis Center Website And Domestic Violence Hotline
I found Judy Strnad to be totally committed to the goal of assisting victims of domestic violence within our community.  She wants our citizens to be aware of services and educational programs available to them, their friends, and family members.  You may visit the Artemis Center website at www.artemiscenter.org.  And, again the Hotline is (937) 222-SAFE (7233).
© 2014, Ohio Family Law Blog. All rights reserved. This feed is for personal, non-commercial use only. The use of this feed on other websites breaches copyright. If this content is not in your news reader, it makes the page you are viewing an infringement of the copyright.

About The Author: Anne Shale
Anne Shale is of counsel to Dayton, Ohio, law firm, Holzfaster, Cecil, McKnight & Mues. She is a former registered nurse and concentrates her practice in Family Law and Divorce cases.
Artemis Center Provides Assistance To Victims Of Domestic Violence