An Introduction to Greene County Domestic Relations Court Staff Attorney Justin C. Nidiffer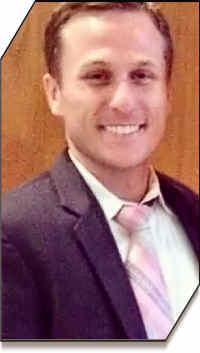 Justin C. Nidiffer
On February 9, 2015, I traveled to the Domestic Relations Court of Greene County, Ohio to interview Justin C. Nidiffer, the newly hired Staff Attorney for the named Court.  Justin advised me that he had completed an internship with the Court during his last year in law school and that he was so very pleased with that experience.  It was apparent to me that the Domestic Relations Court was very satisfied with Justin's performance as the Court hired him as their very first Staff Attorney to commence his position on January 1, 2015.
What will Justin's responsibilities be?
He will be reviewing new cases filed with the Court and examining the pleadings and Financial Affidavits of the parties.  He will then be preparing and filing the Court's Temporary Orders of Custody and Support.  He will be working closely with Judge Steven Hurley, Magistrate Cynthia Martin, and Magistrate Kimberly Combs.
He will be conducting Case Management Conferences with the attorneys involved in each case.  If a Guardian ad Litem or a Family Investigation is needed, he will prepare the Entry regarding same.  He will also be involved with analyzing and evaluating the:

Stage and/or progress of each case.
Determination of what must be accomplished in each case.
Determination of pending Motions before the Court.
He will do legal research as needed by the Court using Court-View and Casemaker.
Eventually, he may assume the role held by Colleen Cain, now deceased, in managing and conducting the Parenting After Divorce workshops.
He will be the person assigned to pro se litigants in the Family Court of Greene County, Ohio.  He will assist them with the management of their cases.
During the month of March 2015, Justin plans to travel to Lucas County, Ohio to spend some time with Judge David L. Lewandowski to learn more about the roles and tasks that "Staff Attorneys" are assuming and performing for the Domestic Relations Court of all counties throughout the state of Ohio.
Contact Justin Nidiffer at the Greene County Domestic Relations Court
I found Justin Nidiffer to be very engaged and involved and enthusiastic about his new position with the Domestic Relations Court.  He seemed to me to be very open to questions about cases in the Greene County Domestic Relations Court. His work email is jnidiffer@co.greene.oh.us
© 2015, Ohio Family Law Blog. All rights reserved. This feed is for personal, non-commercial use only. The use of this feed on other websites breaches copyright. If this content is not in your news reader, it makes the page you are viewing an infringement of the copyright.

About The Author: Anne Shale
Anne Shale is of counsel to Dayton, Ohio, law firm, Holzfaster, Cecil, McKnight & Mues. She is a former registered nurse and concentrates her practice in Family Law and Divorce cases.
Domestic Relations Court In Greene County Hires Nidiffer