Recent Child Support Study Shows That We May Be Overlooking the In-Kind Support Low-Income, Non-Custodial Fathers Actually Provide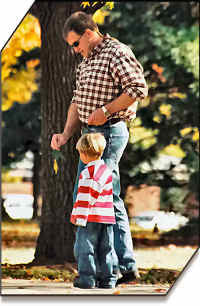 In a recent article published in The Journal of Marriage and Family, a study of the child support provided by approximately 400 low-income, non-residential fathers suggests that "in-kind" support, that is, support in the form of something other than money, is not typically considered even though it constitutes about one quarter of the total support given. Click here to read the in-kind support study,
Most courts only acknowledge formal or informal support provided (i.e. money paid either directly or indirectly to the mother). The authors of this study argue that many of these low-income fathers provide gifts, food, everyday essentials and services, yet are still labeled "dead-beat dads" because their in-kind support goes unseen by the child support system. As a result, the authors argue that policymakers cannot cure the issues within the system until they have an accurate picture of the situation.
Therefore, the study set out to determine how much in-kind support is being given by these fathers and what their motivation behind giving it is.  In their research, the authors interviewed roughly 400 low-income fathers of different races from Austin, TX, Philadelphia, PA and Charleston, SC.  All subjects were required to have at least 1 child between the ages of 6 months and 18 years that did not live with them.
The results showed that nearly half of the participants contributed in-kind support to their children averaging approximately $60 per month which was more than the formal ($53 in cash payments) and informal ($40 per month per child) support given. The study demonstrated that these fathers provide groceries, shoes, clothes, diapers, formula, child care, and gifts each month.  When questioned about why they do so, the overwhelming majority stated that they do it to encourage a continuing bond with the child. Those interviewed were less concerned with their responsibility to share the expenses accompanied with raising the child, and more concerned with repairing or maintaining a relationship with them.
So, if the study is accurate and these "deadbeat dads" really aren't as "deadbeat" as we think, then why do they have such a problem paying the formal amount of child support required by the system?  This study, along with similar ones conducted in the past, revealed that these fathers often have a lack of education and unsteady employment making it difficult for them to provide a set amount of money on a consistent basis.  In addition, they often have a distrust of the children's mother and therefore prefer to spend the money on items that directly go to benefit the child, rather than providing money that their mother could spend on something else.
As a result, many choose to purchase and hand-over the items themselves.  In doing so, these fathers feel that it ensures the child realizes that they are contributing to their well-being, whereas simply handing the mother money may go unrecognized in the child's eyes.  In-kind support also allows the dads to create memories with their child . . . shopping for clothes, going out to dinner, etc.
The authors of this study conclude that their results show the difference between the goals of the fathers and those of the state within our child support systems: the fathers seek to strengthen their bond with their children, while the state is largely focused on the amount of money available to the mother and child.  As a result, the authors argue that our current child support policies may be misguided.  They suggest that perhaps the courts should credit the in-kind support provided by these fathers in order to strengthen the father/child relationship and keep them involved long-term, even if the amount provided is not equal to the formal support ordered.
Fathers In-kind Support For Child Recognized In Ohio Courts
In Ohio, this practice of potentially giving credit for in-kind contributions is already in play.  Ohio Revised Code 3119.23(J) specifically states that, "significant in-kind contributions from a parent, including, but not limited to, direct payment for lessons, sports equipment, schooling or clothing" may be considered by a court when determining if a deviation from the normal child support guidelines should be granted. Therefore, it appears that Ohio is ahead of the curve in this respect.  If you need help convincing the court that your fathers in-kind support and contributions should be recognized, contact one of our knowledgeable family law attorneys today!
© 2015 – 2018, Ohio Family Law Blog. All rights reserved. This feed is for personal, non-commercial use only. The use of this feed on other websites breaches copyright. If this content is not in your news reader, it makes the page you are viewing an infringement of the copyright.

About The Author: Robert L. Mues
Robert Mues is the managing partner of Dayton, Ohio, law firm, Holzfaster, Cecil, McKnight & Mues, and has received the highest rating from the Martindale-Hubbell Peer Review for Ethical Standards and Legal Ability. Mr. Mues is also a founding member of the "International Academy of Attorneys for Divorce over 50" blog.
Child Study: Fathers In-Kind Support For Child