Casino Jackpot? Maybe Not. Another 'Weapon' for the Child Support Enforcement Agencies of Ohio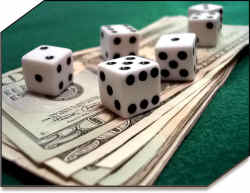 The State of Ohio has eighty-eight (88) counties and each county has a Child Support Enforcement Agency ("CSEA") tasked with the collection of child support payments from Obligors (primarily Fathers and former Husbands). For many years, the Child Support Enforcement Agencies have been able to "intercept" Income Tax Refunds of Obligors having arrearages in their child Support Accounts.  Recently, a new "weapon" has been added to the arsenal of the Child Support Agencies.  They can now intercept racino or gambling winnings of Obligors who are behind with child support payments.
In an August 5, 2015 posting, it was reported that two (2) million dollars in unpaid child support had been "seized" from jackpot winners at the state's casinos and racinos in the last eleven (11) months. (Caveat:  It appears that "deadbeat" Dads are also inclined to gamble!!  I was surprised at the amount of child support seized from gambling earnings!)  To achieve this success rate, the Ohio Department of Job and Family Services has been working with the casinos and racinos to check "jackpot winners" against a database of Child Support Obligors who owe child support.
The Child Support Enforcement Agencies for the State of Ohio collect 69% of all child support owed to the Obligees in Ohio Child Support Cases.  This success rate is better than the national average of 64% of child support collected versus child support owed.  But, Ohio is now aiming to collect 70% of all child support owed for 2015 and subsequent years. It should be noted that Ohio consistently ranks in the Top 5 of all states for collection on current support due and exceeds the national average of establishing paternity. Section 3123.89 of the budget bill specifies that a person who is in arrears and has defaulted on child support payments can have his winnings withheld in order to pay the outstanding debt.  The amount of child support that is owed would be deducted from the winnings, meaning that if the winnings are smaller than the child support arrearage owed, then the Obligor is likely to see his or her entire jackpot earnings turned over to the appropriate Child Support Enforcement Agency.
Our law extern spoke to Patrick Martin, the Director of Regulatory Compliance at the Ohio Casino Control Commission. He said their only job is to audit the process put in place by Job and Family Services to make sure they comply with it. When someone hits a jackpot, either on slots ($1200), table games ($600 on one hand), poker ($5000), or a promotional giveaway, such as a truck or car that is a triggering event.   When this happens a casino employee comes to them because they need to make a payout and file the IRS paperwork, either a 1099 for promotional giveaways, or W2G for money. Next they run the person's name through the intercept program by their last name and social security number. If the report comes back that the person owes money, they will withhold that money from their payout. The intercept program is just an interface with Job and Family Services of a database of anyone who has a court order against them for unpaid child support. If the person is in the system the casino will simply withhold the money that the system tells them to withhold.
Jackpot Winnings Can Be Diverted To Pay Delinquent Child Support
We asked Mr. Martin what happens if someone disagrees and says that they do not owe the money.  He candidly said he does not know if this has ever happened, but that they could not do anything about it on their end, and that the person would need to take it up with Job and Family Services or with the Court.  There have to be a lot of disappointed jackpot winners in Ohio thinking it was their BEST DAY EVER, only to learn that the money was diverted to pay delinquent child support!
© 2015 – 2018, Ohio Family Law Blog. All rights reserved. This feed is for personal, non-commercial use only. The use of this feed on other websites breaches copyright. If this content is not in your news reader, it makes the page you are viewing an infringement of the copyright.

About The Author: Anne Shale
Anne Shale is of counsel to Dayton, Ohio, law firm, Holzfaster, Cecil, McKnight & Mues. She is a former registered nurse and concentrates her practice in Family Law and Divorce cases.
Child Support: Jackpot Earnings Can Be seized From Child Support