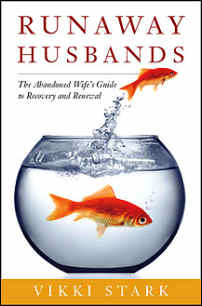 The author of the book, Vikki Stark, graphically describes her feelings and emotions as her Husband tells her "it's over", i.e. "the marriage is over", after she had returned from a book tour about her most recent book, My Sister, Myself, in 2006. At the time, the author had a twenty-one (21) year marriage, which she thought was a successful one. She felt loved and blessed to have a happy and fulfilling marriage. She was shocked to learn that her Husband had been engaged in a six (6) year extra-marital relationship. He was leaving her for the "other woman"! She did not know that the "other woman" existed!
Vikki Stark is a marriage counselor and family therapist. She immediately commenced a project of interviewing over four hundred persons (in person and by internet interview) to collect information about the phenomenon that she labels "Wife Abandonment Syndrome", aka "WAS". The definition of Wife Abandonment Syndrome is as follows: "a pattern of behavior that begins when a Husband leaves his Wife "out-of-the-blue" without ever telling her that he was unhappy or thinking of leaving." Ms. Stark used the information that she was provided during the interviews to write her most interesting book.
The shock and disbelief to the Wife is overwhelming and creates physical, emotional, and mental pain and anguish. Many Wives must seek treatment for anxiety, depression, loss of appetite, loss of zest for living, insomnia, and other symptoms that arise. The author provides a list of descriptions about how the Wives felt upon being told "it's over":
"It was like someone had stuck a knife in my stomach."
"The bottom fell out of my being."
"I felt intense pain. I remember my heart beating so hard I thought it was going to burst."
"I wanted my life to end right there."
"I felt like someone had punched me in the gut."
"My heart was broken. I wanted to die."
"I felt like I was hit with a ton of bricks."
Very soon thereafter, the author commenced the Sudden Wife Abandonment Project ("SWAP") wherein Wives who have been abandoned by "Runaway Husbands" could share their stories and gain information and insight from other women who had been similarly abandoned.
The author then sets forth seven (7) steps that must be accomplished for the "Abandoned Wife" to heal and return to normalcy. Those steps are as follows:
Recognize that the chaos won't last forever.
Accept the fact that the marriage really is over.
Integrate the fact that your Husband has changed irrevocably and is beyond caring for your welfare.
Understand why he needs to justify his actions any way possible – including rewriting history, lying, or attacking you.
Give up trying to get the acknowledgment and apology that you deserve.
Turn your focus from the past to the future.
Celebrate your new life as single person.
As a family law attorney, I found the book to be very helpful. Through the years, I have had clients who were suddenly "abandoned" by their Husbands…these clients have always been more upset and confused by the happenings as they had no "warning" that there was a problem with the marriage. They thought that things were going well and their reactions were just as described by the author.
Ms. Stark provides realistic tips and advice to "Abandoned Wives" on how to recover from the abandonment and how to renew their lives post-Divorce. To learn more about her book please visit www.runawayhusbands.com
To learn more about the "Sudden Divorce Syndrome" click here to read an article co-authored by Psychotherapist Donna F. Ferber and Attorney Robert L. Mues, the Publisher of the Ohio Family Law Blog on August 14, 2010.
© 2016, Ohio Family Law Blog. All rights reserved. This feed is for personal, non-commercial use only. The use of this feed on other websites breaches copyright. If this content is not in your news reader, it makes the page you are viewing an infringement of the copyright.

About The Author: Anne Shale
Anne Shale is of counsel to Dayton, Ohio, law firm, Holzfaster, Cecil, McKnight & Mues. She is a former registered nurse and concentrates her practice in Family Law and Divorce cases.
REVIEW OF RUNAWAY HUSBANDS – The Abandoned Wife's Guide to Recovery and Renewal Written by Vikki Stark