Are Your Legal Fees From your Divorce Tax Deductible? Tax Deduction Often Overlooked!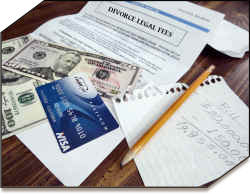 Generally speaking, the IRS does not allow a write-off for court costs and legal fees stemming from a divorce.  It does, however, offer deductions for any portions of those fees related to tax advice and alimony.
What Fees Can Be Considered Tax Deductable During A Divorce?
According to the IRS, legal fees that are specifically spent to collect spousal support can be included under "other expenses" with the itemized deductions listed on Schedule A of tax form 1040.  This write-off is also available for any proceeding in which a spouse is attempting to collect taxable spousal support, increase the amount of support, or collect any past due amount. It is important to note, however, that the IRS does not allow a deduction for the cost of trying to collect non-taxable income during divorce, such as overdue child support or temporary spousal support.  In addition, it does not allow for the deduction of any of your spouse's legal fees that you may be ordered to pay.  What it does allow for is a write-off for any research and time spent on tax-related subjects such as real property transfers and dependency exemptions.
However, before you run off to amend your tax returns, there is one hurdle to consider first. In order to deduct these expenses, the total amount spent on fees pertaining to tax advice and the collection of spousal support in one year must be greater than 2% of your adjusted gross income (AGI).
So the question then becomes, how can you be sure that the amount you paid, specifically for taxable legal advice during a divorce, is greater than 2% of your AGI?  According to IRS Revenue Ruling 72-245, the IRS will accept an attorney's allocation of his or her legal fees between their client's taxable and non-taxable matters.  Therefore, it is important that you make your attorney aware of the fact that you want your bill split for tax purposes from the beginning so they can properly track and record the breakdown.
Legal Fees Could Be Considered A Tax Deduction
With tax season upon us, if you have gone through a divorce in 2015, you might want to talk with your accountant to determine if some portion of your legal fees might be tax deductible. This tax deduction is often overlooked!
© 2016, Ohio Family Law Blog. All rights reserved. This feed is for personal, non-commercial use only. The use of this feed on other websites breaches copyright. If this content is not in your news reader, it makes the page you are viewing an infringement of the copyright.

About The Author: Robert L. Mues
Robert Mues is the managing partner of Dayton, Ohio, law firm, Holzfaster, Cecil, McKnight & Mues, and has received the highest rating from the Martindale-Hubbell Peer Review for Ethical Standards and Legal Ability. Mr. Mues is also a founding member of the "International Academy of Attorneys for Divorce over 50" blog.
Tax Deduction: Divorce Legal Fees