Do You Take a Lot of Photos of Your Kids? Some Amazing Statistics for Mother's Day!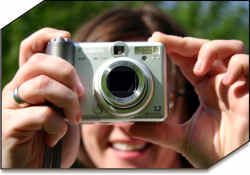 MiMedia Inc., just published the results of a recent survey that explored how parents snap, shoot, share and store photos and videos of their beloved children ages 0 – 3. This next-generation personal cloud platform posed questions to 1,000 parents nationwide about their digital habits and lifestyles, investigating how much storage space baby photos and videos take up on their devices.
I bet some of the results of the study will amaze even the most prolific photographers!
Here Are Some of the Key Findings.
76% of parents admit to running out of storage on their phones from taking too many photos/videos of their kids
71% think Moms take more photos of their kids than Dads
Nearly 3 out of 5 parents (58%) say their child (age 0-3) was able to operate a touchscreen digital device by swiping before they learned to speak
57% think Moms share too many baby photos on social media (Facebook, Instagram, etc.)
Almost half (47%) of parents say their child (age 0-3) likes taking selfies
47% of parents share at least 1 photo/video on average of their child (age 0-3) per day, whereas 34% don't share any
1 out of 3 parents (34% ) takes 1 video on average of their child (age 0-3) per day, whereas 13% of parents take 5+ videos on average of their child (age 0-3) per day
28% take 2 photos on average of their child (age 0-3) per day
Almost 1 out of 3 parents (28%) admits to taking substantially more photos of their first born than other children
22% of parents take 5+ photos on average of their child (age 0-3) per day
For those not familiar with MiMedia, it is a next-generation personal cloud. They offer consumers a "rich and engaging experience plus powerful tools to curate, personalize and (re)discover your digital memories. MiMedia is NYC made, with people passionate about changing consumers' digital lives for the better".
As a divorce lawyer who personally feels that there is generally way too much exposure of children online, I was interested in a feature that they offer called "MiDrives" which allow for personal media to be kept securely and shared privately among invited family and friends. You might want to check this out!
Happy Mother's Day!…And Don't Forget To Take Great Photos of Your Kids!
All this technology is way beyond me, but I sure enjoy seeing photos and videos of my 3 and 4 year old grandchildren who live in Dallas, Texas. That's a long ways, unfortunately, from Dayton, Ohio! Happy Mother's Day to my Daughter-in-law Ashley, and to the rest of all the Mothers out there on Mother's Day – snap away and take some great photos!
© 2016 – 2018, Ohio Family Law Blog. All rights reserved. This feed is for personal, non-commercial use only. The use of this feed on other websites breaches copyright. If this content is not in your news reader, it makes the page you are viewing an infringement of the copyright.

About The Author: Robert L. Mues
Robert Mues is the managing partner of Dayton, Ohio, law firm, Holzfaster, Cecil, McKnight & Mues, and has received the highest rating from the Martindale-Hubbell Peer Review for Ethical Standards and Legal Ability. Mr. Mues is also a founding member of the "International Academy of Attorneys for Divorce over 50" blog. Mr. Mues has also been a dog owner for 55+ years, and just recently, he and his wife are the owners of "Ralph", a rescued mixed Wire Hair and Jack Russell Terrier.
Photos Tools To Protect And Personalize Your Digital Memories Online