How Does A Marriage Fall Apart? Divorce Reseach Reveals Top 10 Reasons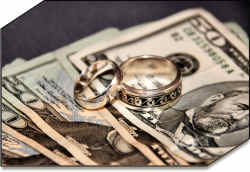 The reasons couples divorce are as varied and different as the individuals involved.  However, upon closer examination, it seems that there is often a common thread as to why the breakdown occurred.
The British law firm of Slater & Gordon interviewed 1000 divorcees in order to better understand how a marriage ends up falling apart.
Their research showed that the top 10 reasons given for divorce were: 1 – infidelity, 2 – we were unhappy, 3 – we argued too much, 4 – we fell out of love, 5 – we didn't communicate anymore, 6 – we wanted different things, 7 – they changed, 8 – we didn't feel like partners anymore, 9 – they were abusive and 10 – we had money problems.
The rest of the firm's findings are displayed in the infographic below.

The firm's results clearly show that divorce is not something that couples enter into lightly.  In fact, those surveyed stated that, on average, they thought about divorcing their spouse for 2 years before it actually happened.
In addition, the findings also demonstrate that it is not uncommon for finances to play a part in the deterioration of a marriage.  The divorcees indicated that overall the process cost them approximately 5300 Euros, or $5900. In addition, those who indicated that they were financially worse off said it was 15,759.33 Euros, or approximately $17,000.
This survey and a collection of Slater & Gordon's ongoing research can be found in their new book, Family Law Made Simple.
Contemplating Divorce? Contact An Experienced Family Law Attorney Today!
In my 38 years of handling family law and divorce matters here in the United States, it seems to me that "money problems" is a much higher cause on the list than number 10. In any event, whatever the reason, if you are contemplating getting a divorce, contact an experienced family law attorney to guide you through the divorce process!
© 2016 – 2018, Ohio Family Law Blog. All rights reserved. This feed is for personal, non-commercial use only. The use of this feed on other websites breaches copyright. If this content is not in your news reader, it makes the page you are viewing an infringement of the copyright.

About The Author: Robert L. Mues
Robert Mues is the managing partner of Dayton, Ohio, law firm, Holzfaster, Cecil, McKnight & Mues, and has received the highest rating from the Martindale-Hubbell Peer Review for Ethical Standards and Legal Ability. Mr. Mues is also a founding member of the "International Academy of Attorneys for Divorce over 50" blog. Mr. Mues has also been a dog owner for 55+ years, and just recently, he and his wife are the owners of "Ralph", a rescued mixed Wire Hair and Jack Russell Terrier.
Divorce: Why Marriages Fall Apart – And The Survey Says…